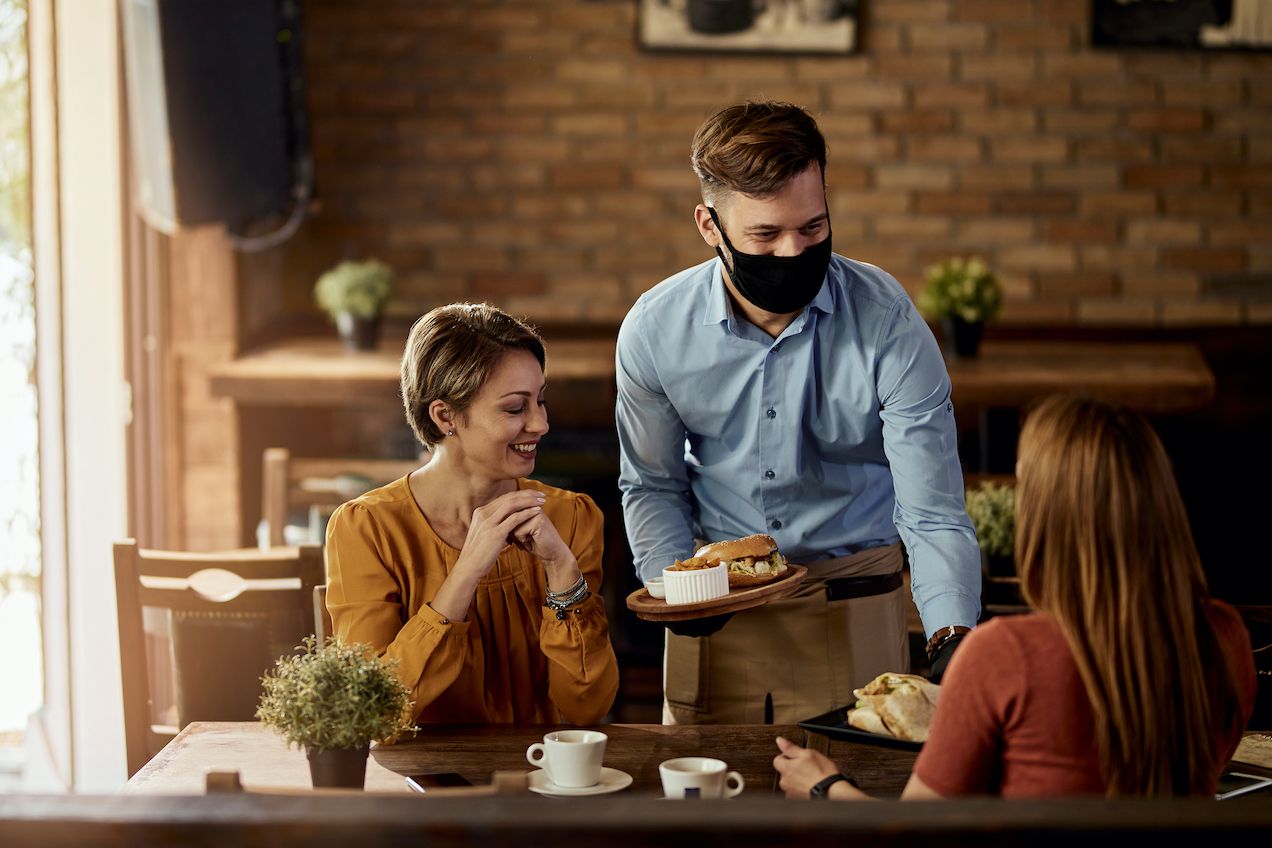 In the wake of the pandemic, foodservice businesses are getting creative in order to survive. Most have been able to access outdoor dining, curbside pickup and delivery services to keep customers and employees safe. In addition to these additional services, foodservice businesses have also had to work to reinvigorate cash flow, pivot marketing, refresh menus, and adapt physical spaces. 
Moving Your Business Forward
We've compiled key information to consider as you move forward. As always, never hesitate to reach out to a Maine SBDC advisor for one-on-one assistance. 
Step 1: Review & Assess
Now is the time to stop, review, and assess the current state of your foodservice business. It's important to assess the impact the pandemic has had and will continue to have on your business. Decisions you make now will have a long-lasting impact on your future and your ability to recover. To access your restaurant business, you should look at each aspect of your business and how it has been impacted by the pandemic.
Operations & Safety
Review what the purpose of your business was when you first began. How have you been filling that purpose or how it may have changed? What part of running your business are you most passionate about? What parts of your business are most challenging right now? 

Operational Capacity: Do you have limited service offerings and/or hours? Do you need to space out diners in order to properly clean? How much interaction do you (or your employees) need to have with customers and clients? What additional measures need to be taken? 

Location: How is your location affected? Are there as many people driving or walking by?

Employees – How will you keep employees safe? Will you stagger shifts, encourage distance and/or limit break room use? Will you provide safety training? Will you provide employees with PPE? Do you need to update your employee handbook or create new procedures? How will you and your employees handle customers that don't adhere to safety guidelines?

Vendors – What if your supply chain is disrupted? Do you have a backup?

Compliance – Do you need new equipment, materials, or PPE to keep your customers and employees safe?
Finances & Financial Planning
Revenue – Which revenue streams have been most impacted? What is causing the impact on your revenue? Are customers still willing and able to go to your restaurant? What might be deterring customers from purchasing or coming in? Increased costs of take-out containers and packaging? 

Expenses – How do your expenses look? Are there expenses that can be cut?

Cash – Have you determined how much cash your business has available to move forward? How long can you run your business at lower-capacity with the available resources? Will you need to look for additional financial resources?
Customers & Marketing
Plan – Does your marketing plan need to be updated? Does your plan focus on engaging customers through your website and social media platforms?

Customers – How is your customer doing? Have their behaviors, spending, or habits changed? How will this impact your revenue? 

Products & Services – Can you adapt your business to hone in on your most successful, core products or services? Are there unique or new products or services you can offer based on the pandemic?

Communication – How are you going to re-engage your customers? How will you make them feel safe? How will you communicate with them? How can you utilize the internet or e-commerce to promote your products/services?
Step 2: Relaunch & Rebuild
After you've reviewed and assessed the most important areas of your business, you can take the necessary next steps. There is no question that rebuilding your business will take time, effort, and likely money. Consider the following as you work to capitalize on the 'new normal':
Reboot Operations 
Foodservice businesses have made significant adjustments to their physical space to maintain compliance with State mandates and a safe environment for patrons and staff.  It is crucial to public safety and success of your business to keep an eye on the ever-changing

DECD's Restaurant Checklist

.

Implement new hygiene requirements (masks, single-use utensils, gloves) 

Redesign workspaces with the 6-foot physical distancing protocol in place

Communicate with suppliers and make sure they don't have any shortfalls

Identify what services to offer, how frequently to offer them, how many staff are needed to meet the demand

Clear written policies are essential for employees and customers. Add specific policies and procedures for employees, Talk with your attorney if you have further concerns related to liability.
Protect Customers
Establish new business practices: temperature controls, hand sanitizer, contactless payment methods, automate as much as possible (i.e. vendor and supplier transactions, etc.)

Make sure you are communicating new measures implemented that may not be visible to customers (i.e. minimized human handling, testing procedures across your entire supply chain). 

Be consistent with your practices
Revive Demand 
Identify and capture specific pockets of growth 

Use tactical pricing. Don't give your services away or discount your services without understanding your costs.

Focus on building brand loyalty by demonstrating high ethical standards, like the use of PPE and constant communication

Help core customers with a pragmatic approach: offer payment extensions if possible, make exceptions for customers in a strategic way
Communicate, Communicate, Communicate 
Update your customers regularly on the status of your business

Contact with stakeholders, partners, customers, suppliers, friends, family, press, etc. 

Utilize social media and digital marketing outlets

Remember, your customers and employees are looking to you to let them know how you are going to keep them safe. 
Step 3: Recovery & Beyond
How long can your business last? Will you have enough cash to get you through the winter? What if an employee gets sick or there is another surge in the virus? What are your next steps?
All of these questions – and more – can be answered to some extent by business planning. Many seasoned business owners will argue that business planning in the food service sector is the most complex and necessary planning in any industry. Your business plan does not have to be a long, elaborate document that takes months to complete. A business plan can be a simple assessment of where your business stands to help guide you and your future business decisions. 
A business plan and the accompanying financial projections allow you to set qualitative and quantitative goals. It also helps you better understand where you are and what you need in order to survive and succeed. Planning helps you better understand "what if" scenarios. 
Planning also helps you manage crises better. It helps you respond in a time of panic, providing guidance on situations that might arise and how to respond confidently. Trust us – your future self will thank you for taking this time to create a thoughtful plan. 
Get planning now with our resources here.

Need help? Maine SBDC business advisors are experts in business planning. They can guide you through the process and help you feel confident about your next steps (and the future of your business).
REQUEST ADVISING
Resources from Industry Organizations
HospitalityMaine
Hospitality Maine is Maine's only non-profit trade group helping and representing Maine's hospitality industry. Hospitality Maine's mission is to improve, promote, protect, and educate lodging, restaurant, and hospitality industries in Maine. Currently, Hospitality Maine is providing a Covid-19 Readiness Training for Maine Restaurants, in which through four modules allows you to educate yourself on the proper fundamental information to keep yourself, employees, customers, and restaurant(s) safe during the current pandemic circumstance.
Restaurant Readiness Course: https://www.hospitalitymaine.com/page/covidreadinesstraining
National Restaurant Association
The National Restaurant Association designed to serve, protect, and advance America's restaurant and foodservice industry is the largest foodservice trade association in the world. The NRA currently has a Covid-19 Information and Resource department, dedicated to informing and guiding restaurant owners/operators on how to navigate the new challenges pandemic has put upon the foodservice industry.  The resource section provides the following categories of foodservice information: Industry Advocacy, Reopening & Recovery, Business Resources, Research & Analysis, Food Safety, and Frequently Asked Questions.