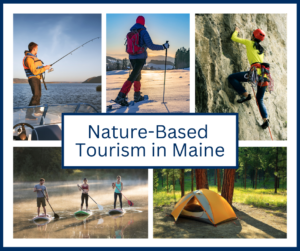 Maine's outdoor industry is a vital and thriving state economy component. With its rugged coastlines, dense forests, and stunning mountain ranges, Maine is one of the top five states in the country for the outdoor recreation industry. In 2022 alone, Maine attracted over 15 million visitors, adding around eight billion dollars in revenue to the state's tourism industry on accommodations, groceries, restaurants, shopping, and entertainment. 
The outdoor industry in Maine has undergone significant changes since the pandemic. However, this industry is core to our quality of life in Maine, and the setbacks gave way to a renewed focus on local tourism, with many Mainers rediscovering the beauty and adventure that their home state has to offer.
Outdoor Industry Overview
The principles of ecotourism in Maine focus on minimizing the impact of tourism on the environment while promoting conservation and sustainable practices. One of the main principles is responsible travel, which involves respecting local cultures, traditions, and wildlife habitats.  Another principle is environmental conservation, including minimizing waste and supporting local conservation efforts. Additionally, ecotourism in Maine emphasizes the importance of education and community involvement and development, encouraging visitors to learn about the natural environment and supporting local communities. 
These principles aim to promote responsible and sustainable tourism that benefits visitors and the environment and ensures that the outdoors remains a safe and accessible way to spend time with friends and family. 
Outdoor Industry Trends

The pandemic has brought a new level of awareness and appreciation for Maine's natural beauty and outdoor adventures, making the state an even more attractive destination for nature-based tourism. 
Some trends include:
Increased demand for outdoor activities such as hiking, kayaking, camping, and fishing.

Significant market growth for canoeing and kayaking manufacturing and service. 

Camping became the new most exercised activity. The number of households owning an RV and the number of first-time campers, including tents, RV, and cabin glamping, has increased since 2019.

Gravel cycling is the next big biking trend.
Business Opportunities in the Outdoor Industry

There are several opportunities in the outdoor industry for entrepreneurs. These include:
Marine and Inland nature-based tourism

The year 2020 has created a resurgence in the outdoor world, and travel was used in a regenerative capacity making it an antidote to the mental health consequences of the pandemic.  Maine's natural beauty and abundant wildlife offer many business opportunities in the nature-based tourism industry.
GUIDED TOURS AND WILDLIFE WATCHING
Whether it's a whale-watching tour, a guided hike through the mountains, lobster boat tours, birding tours, or a kayaking tour of the coast, entrepreneurs have endless opportunities to create and market their unique tour experiences. In addition, some of these areas are learner friendly and have low entry barriers.
ACCOMMODATIONS
Maine offers a variety of accommodation options, from luxury resorts to rustic cabins. Entrepreneurs have been adjusting to the new reality and developing innovative business ideas, such as ready-to-use camping vehicles with built-in amenities and supplies. Additionally, eco-lodges, glamping sites, and bed and breakfasts that emphasize the natural beauty of Maine can attract visitors looking for a unique and sustainable vacation experience.
ADVENTURE SPORTS

Entrepreneurs can capitalize on Maine's rugged landscape and abundant waterways by offering outdoor activities such as kayaking, canoeing, white-water rafting, paddle board paddling, hunting, and rock climbing. These activities can be packaged as day trips or multi-day adventures, allowing visitors to enjoy Maine's natural beauty.
Resources to Help
Whether providing guided tours, accommodations, adventure sports, or wildlife-watching experiences, entrepreneurs can create sustainable and unique businesses that capitalize on Maine's natural resources. 
The Maine Office of Tourism prides itself in providing industry resources and education to entrepreneurs in the state's tourism economy. Details about the Maine Office of Tourism, programs, and services can be found at MOT's industry website, MOTPartners.com. Additionally, a Maine SBDC business advisor can help you navigate the process of starting a business or transitioning to a more sustainable one. Reach out for no-cost business advising here. 
For more details, watch the workshop with the Maine SBDC Business Advisor Peter Piconi and guest speakers Jenny Kordick – Maine Outdoor Brands and Hannah Collins – Maine Office of Tourism sharing helpful insights to help you better understand nature-based tourism in Maine.