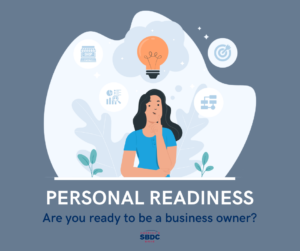 Are you ready to launch your business? Personal readiness is key when it comes to opening a business, and it's essential to take the time to make sure you are prepared for all of the challenges that come with the process. 
Determine Your WHY
The first step in determining your readiness for starting a business is to assess the reason you are starting a business and WHY. According to the U.S. Bureau of Labor Statistics in 2021, the top reason that people started a business was to fulfill a passion or find a purpose in life. Take the time to assess the reason behind your business idea. Your "why" is your mission and needs to be strong enough to lean on in tough times. Define your company's core value, which will help you sustain a vital mission and help you prevent and adjust accordingly for unforeseen events, such as labor shortages, economic changes, or governmental regulations.
Assess Your Skills & Knowledge

Evaluate whether you have the skills and knowledge necessary to start and operate your business successfully. Among many other things, being your own boss means you must be creative, passionate, a problem solver, willing to learn, and driven to achieve your goals. In addition, you must have some knowledge of financial management, marketing, people management, customer management, technology, and strategic planning. While you may not possess all of these skills, consider who you know who does and how they can help with your business. A Maine SBDC business advisor can help guide you through some of the areas you have less experience with and is a great addition to your team.
Analyze Your Industry Expertise
Consider how much expertise you have in your field. Having experience or expertise in a particular field will give you an advantage in starting and growing your business. Learning about the industry while starting and running the business is much more difficult. If you are new to a field, consider how you can grow your skills. Talk to those in the industry or consider working in that field for a while.
Financial Stability

Starting a business takes money. One of the reasons that almost 20% of U.S. small businesses fail in the first year is due to insufficient funds. It's vital to have a solid financial foundation before embarking on this journey. Calculate and understand your personal financial needs and the costs of starting your new business. Most new businesses are self-funded which means you should understand the implications to your source of income and savings. If you are considering accessing financing, understand that the lender will require you to put a portion towards the loan, most often 20% of the loan amount. Generally speaking, grants are not available for new businesses.
Ensure You Are Ready For Hard Work

As an entrepreneur, you need to be prepared to put in long hours, work tirelessly, and make personal sacrifices to achieve success. This means being mentally and emotionally ready to deal with the challenges of entrepreneurship, including financial risks, uncertainty, and failure. Be honest with yourself and assess your motivation, resilience, and adaptability. Acknowledge that starting a business will impact the quality of your life, personal obligations, and your family and friends. However, if you are passionate about your business idea, willing to learn, and can handle setbacks and challenges, you are on the right path to success.
Be Sure You Have a Support System
A strong support system is critical for success in starting and growing a business. Having a supportive network of family, friends, mentors, and advisors can make all the difference and help you cope with the stress and uncertainty of entrepreneurship. They can offer guidance, advice, and encouragement during tough times and celebrate your successes with you. Learn the importance of delegation, and as your business grows, so will your responsibilities. Develop a support system that will allow you to share the tasks and provide a sense of accountability and motivation.
Final Thoughts
Ultimately, whether you are ready to be a business owner depends on your circumstances and goals. It's important to consider your strengths and weaknesses carefully and seek resources and support to help you succeed. Data shows that 70% of businesses that worked with a mentor, like an SBDC business advisor, survived past year five.  The Maine SBDC Business Advisors can help you to assess your skills and resources and evaluate your business idea to help you determine if you're ready to take the plunge into entrepreneurship. They will stay by your side throughout the journey.
For more details, watch the full workshop with the Maine SBDC Business Advisor and former small business owner Tina Oddleifson, who shares helpful insights to help you determine what owning your own business looks like.