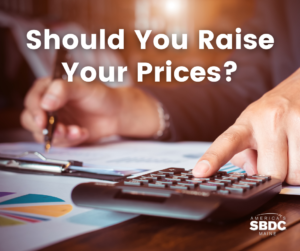 As a small business owner, one of the biggest challenges you may face is determining when it's time to raise your prices. Maintaining loyal customers and earning a profit can be a delicate balance. However, there are times when raising your prices is necessary to keep your business viable.  A winning price strategy includes knowing your cost, knowing your market, and communicating your value. 
Considerations for determining if you should raise your prices:
Are your costs getting higher (and profits lower)?
If the cost of your raw materials or supplies has increased, it may be time to raise your prices to maintain profitability. This could be due to changes in the market, inflation, or even weather-related issues. If your profit margins are getting smaller, it may be time to take action.
Haven't raised your prices in a while?

If your business has not increased pricing in the last 6 months to a year, then it might be time to consider doing so. Smaller, more regular price increases generally are better received by customers than one large increase. This tactic can help retain your customers.
Experiencing increased demand?
If your business is in high demand, you can raise your prices without losing customers. This is especially true if your business is in a niche market. Customers may be willing to pay more for your products or services of the perceived value. Communicate how your business differs from your competitors so your customers know what to expect, and explain what stands you above the competition.
Do you understand the value of your product/service?
Regularly selling out of products or services might mean you are undervaluing them. If no one is saying "no" to your product or service, you are probably pricing too low. Consider how increasing your prices could help promote the value of your business. This includes a good analysis and understanding of your target market
How Much is Too Much?
This question can be tricky because it depends on several factors unique to your business such as your market, competition, and customer base. On average, small businesses raised their prices by 11% in 2022. As you consider a price increase, remember –  It's business, Not personal.
Research the Competition
 Check out what your competitors are charging for similar products or services. Have they increased their prices and by how much? Don't be afraid to be the first to raise prices – if you are thinking about it, they are also thinking about it!
Consider Your Customers
Consider who your customers are and how much they will pay for your products or services. If you have a loyal customer base that values your business, they may be willing to pay more to support you. However, if you primarily serve price-sensitive customers, raising your prices too much may cause them to look elsewhere. Instead, consider offering customers discounts or bundle packages to make them feel exclusive.
Communicate – Be Transparent
If you decide to raise your prices, be transparent with your customers. Communicate the price increase in advance, let them know why you are raising your prices, and how it will benefit them. This can build trust and loyalty with your customers. You do not need to overexplain or apologize – creating a sustainable business is beneficial to you, your customers, and your community. 
Raising your prices is not an easy decision, but it is sometimes necessary for the success of your business.  Remember, the Maine SBDC is here to help you succeed! If you need help determining your pricing strategy, a Maine SBDC business advisor can help guide you for your specific business.
For more details, watch the full workshop with Cristina Ramsdell– Certified Business Advisor at the  Maine SBDC at Androscoggin Valley Council of Government, to help you determine if it's time to raise your prices and how much is too much.