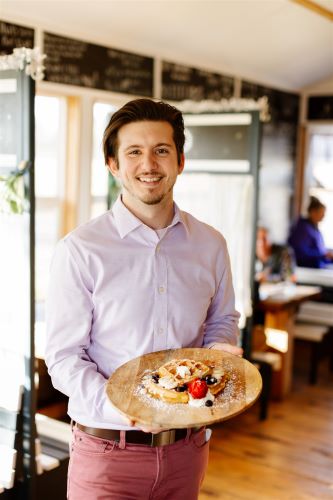 Michael Begley was the 5th generation to work at the restaurant his father's family owned and operated. So when his mother pitched the idea of a waffle-themed restaurant, he knew it would be worth moving to Maine to help with! In the fall of 2019, they got started in their first location. However, COVID quickly had them shifting their plans and attention to their current Dover-Foxcroft location, in what they lovingly refer to as "The Waffle Barn". In February 2021, they opened their doors as Peace, Love, Waffles – "the cutest little breakfast joint in New England, specializing in gourmet waffles!" There they offer a robust menu of sweet and savory waffles, plus community events!
As the business grew, the family discussed the future and concluded that Michael should buy the business from his mother. Piscataquis Chamber of Commerce Executive Director Dennise Buzzeli then suggested he connect with the Maine SBDC for help with that transition. And Maine SBDC at Coastal Enterprises, Inc (CEI) Business Advisor Ann McAlhany was a perfect fit to help him navigate the business transition process. They worked together on developing the necessary business plan and financial projections, Ann was able to "de-stess" the process a bit and help clarify the areas Michael needed to focus on.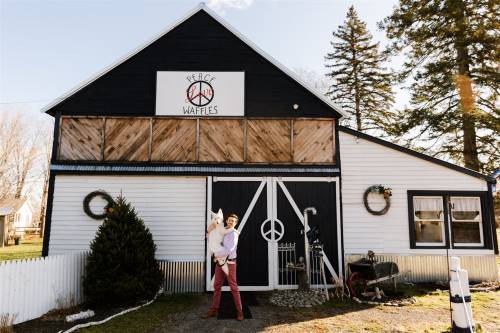 Michael commented, "Working with Maine SBDC is like being friends with the student teacher, you're going to be more prepared for the test."
Ultimately, traditional lending wasn't the right fit for this project. So alternative lenders were brought in, who saw the value of the project, and the entrepreneurship abilities of this potential new owner. Two CDFIs (Community Development Financial Institutions) CEI and EMDC partnered to loan the funds to purchase the business. Michael successfully purchased the business just before the end of the year!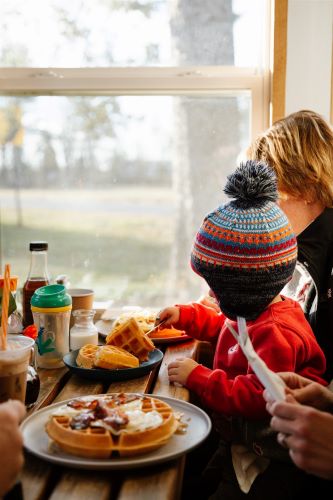 Despite the traditionally slow winter season in Piscataquis County, the business brought in hungry customers and saw some of their busiest months on record. Michael attributes this to his willingness to pay a living wage, providing solid service jobs for locals who would otherwise need to travel for this type of position. In addition, Michael vests in the local community, providing special events and customer appreciation perks that prioritize year-round residents.
Michael commented, "To create a team, you must create a culture and I try to lead by example by keeping that positive attitude throughout all situations."
Michael has big plans for the future and hopes to continue to grow Peace Love Waffles as! This fall they plan to attach a shipping container to the back of their kitchen for added storage/kitchen space. Plus, they're installing an outside ordering window for an ice cream shop coming spring 2024. To stay up to date on this Dover-Foxcroft business's offerings including menus and upcoming events check out their Facebook and Instagram accounts!
Photograph Credit: Sienna Renee Photography