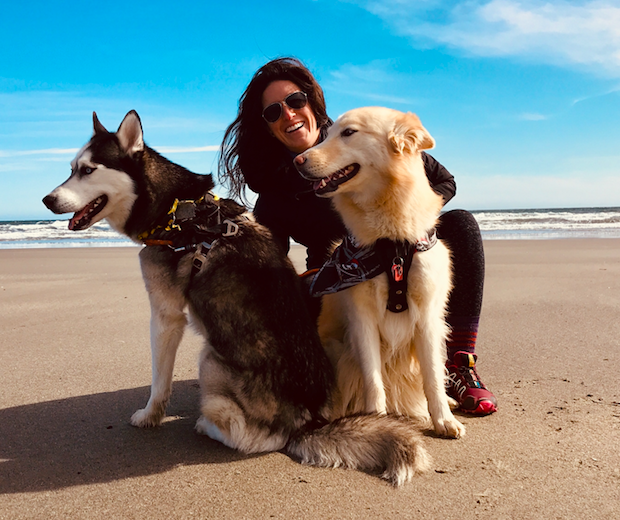 Stephanie R. Smith, M. Ed., CHES, CCDT has felt connected to animals since she was very young. Though she wasn't totally sure how this would play out over the course of her life, she had a gut feeling that she was headed in the right direction! Opening Sacred Paws, a heart-centered holistic positive reinforcement canine behavioral support, training, and nutrition business in Porter, connected her head and her heart in a way that felt affirming. Yet she knew she needed to continue to grow and become more effective at business planning in order to thrive. 
She connected with Maine SBDC at AVCOG Business Advisor Christina Ramsdell as she developed a support structure. She was looking for advice on how to cultivate long-term growth and success with regard to virtual and in-home private sessions, webinars, workshops, and more, which meant she needed to figure out who her target market was and how she could market more effectively to them. 
Stephanie commented, "SBDC has helped me learn more about the linguistics, nature, and foundational components of business mapping/planning, where to focus my efforts and in what order, as well as how to better present my business and services with a professional look and feel."
They met on a weekly basis, from July until September, to talk about branding, social media marketing strategies, and her pricing structure. They also met with a marketing specialist to focus on her website development. Their work came together and Stephanie received a 10K CDBG grant to help grow her business! She has since hosted two successful group training classes, helped over a hundred clients, is getting ready to host her first private educational workshop, launch her first webinar, and continues to grow through pop-up events and on her social media pages. 
Stephanie also commented "I absolutely love owning my own business. I am grateful for the opportunities to connect with my clients and the community on a deep and personal level.  The biggest challenge for me is learning the landscape of social media marketing, but as I understand it "done is better than perfect"."
As she continues her Ph. D studies in Neural & Brain Sciences and Neuroethology, studying C.A.R.A.T. and other canine behavior-specific advanced programs, she's looking forward to becoming a Certified Applied Animal Behaviorist (CAAB), speaking at conferences, hosting seminars and workshops, staff training, and more. To learn more about her services and philosophy check out her website, Instagram and Facebook pages.