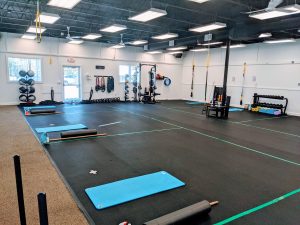 They say the first year of a small business is the hardest, but for Allison Hopkins year 2 hasn't been without its challenges as small business owners adapt to COVID-19. In January 2019 she worked with friends Paige and Mike Wilcox to open her own franchise of Wilcox Wellness & Fitness in Brunswick. All things considered, things were going really well. She certainly faced her fair share of challenges and difficulties but while working with Brad Swanson, a Maine Master Certified Business Advisor from the Maine SBDC at CEI, she met her sales goals and a profitable business was well within her sights. She had big plans for the upcoming year.
As one client was known for saying, things were "peachy Keen and hunky-dory" on March 12th but just a week later the doors were shut with no reopening date in sight, due to the state-ordered mandate in response to the growing COVID-19 pandemic. The next few weeks were full of fear, uncertainty, precarious updates, bureaucratic hoops, and far too many unanswered questions. But with Brad's on-going support she felt confident asking for advice and help with navigating the complicated applications for the various federal and state grant funding that was being created. Working with Brad she trusted that she had someone to lean on, to whom she felt comfortable expressing her fears and concerns.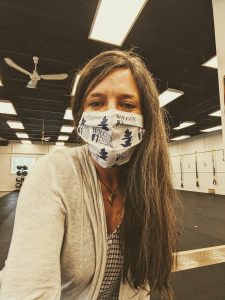 As time went on and still there were no answers she began questioning just about everything including what her responsibilities to society were. She used the time to think about what that meant for her, the WILCOX community, and the world at large. 
It was important to create a culture where clients and staff would commit to safety not only in the gym but throughout their daily lives in order to reduce the risk of transmission in the gym to the greatest extent possible. Six core values came to mind, of which four have been adopted as official "Wilcox Wellness & Fitness COVID Core Values" for both locations in Brunswick and Bangor.
1) There is still so much that we don't know about this virus.
2) The health & safety of those around me is my #1 concern.
3) It is important to remain diligent with wearing a mask and hand hygiene.
4) I must be an active participant in staying healthy & keeping my community safe.
5) I must avoid complacency at all costs.
6) I must be a role model to others.
In a number of blog posts, she was honest about her fears around reopening. But by reframing these new "rules" into a philosophy she asked her team and clients to take personal ownership for everyone's success. In the same way that her team and her members encouraged each other and celebrated one another's fitness goals, they could commit to the shared humanity goal of keeping each other safe. Everyone was on board, ultimately, giving her the confidence to move forward with a reopening plan.
With Brad's assistance, she received a PPP Loan giving her and the trainers the ability to meet people where they were at, which was at home. The gym closed on Wednesday, March 18th when the governor recommended that all non-essential businesses close their doors for the sake of public safety. That following Monday Allison started LIVEStream Training Sessions and the programs were incredibly well received by the clients of Wilcox Wellness & Fitness.
Allison's fears about connection, both human and internet, were quickly quashed. As the workouts were designed to utilize only bodyweight anyone anywhere could participate. This format also brought about some unintended benefits, by eliminating weights and equipment people were able to get back to basics and truly connect with their bodies.  "Because we weren't using weights we had to really connect with our bodies.  As coaches, we had the opportunity to help our clients understand how a movement should be feeling and which muscles needed to be working.  I believe that this change in the format allowed us to train smarter and the benefits carried over as many people returned to the gym."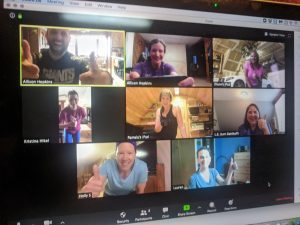 At first, Zoom was considered to help the community stay connected during this period of isolation, and to help maintain some degree of "normal".  But they quickly realized that LIVEStream training was a lot like being in the gym, with trainers able to continue coaching individuals in real-time. 
"In some ways coaching via LIVEStream was even easier than in person because everyone is right there in front of you."  There were benefits for clients too since many had new responsibilities at home with kids being out of school and daycare. "I really enjoyed connecting with my clients in their homes.  It created an even greater sense of community.  I was honored to be invited into people's homes in this way.  People's pets would pass through sometimes in very comical ways, and some people's kids would join which was a lot of fun".  
Again working with Brad she received an EIDL and was able to make the safety updates needed to officially reopen. This included an updated HVAC system, changes to the gym layout, renting a tent for hosting outdoor training sessions, and expanding the trainer team.
"This community is incredibly important to me, and I believe that it is my responsibility to do everything possible to reduce risk to the greatest extent that I can.  I recognize that many of my clients are at high risk for COVID complications or they have family members who are high risk.  For this reason, I worked hard to create a schedule that provided various options for people to choose from based upon their personal circumstances."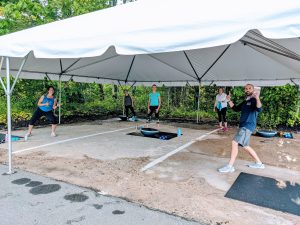 On June 15th the first in-person training was held under the tent outdoors and Allison felt confident that appropriate steps had been taken to create a safe environment for clients in which to train, while also offering choices between in-person and virtual LIVEStream Training Sessions.  By July 25th it was possible to reopen for training sessions inside of the gym, following the CDC guidelines for gyms including ensuring at least 14' of distance between participants during training sessions, dedicated equipment to individual participants which is sanitized before and after use, regular cleaning throughout the gym and clear communication around mask rules. Since then the regulations have changed several times and Allison has quickly made adjustments to the training programs in order to maintain a safe environment even when restricted by new mask requirements. "I have felt so fortunate throughout this entire situation.  I have an incredible community of people who have remained dedicated to their training program and to me as a small business owner. I have truly felt that we "are all in this together".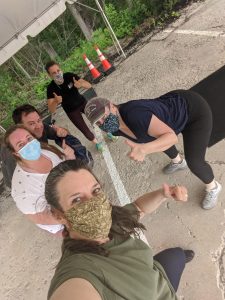 The future remains uncertain, but Allison remains hopeful.  "If I can get through this I can get through anything.  This whole experience has really reminded me of the importance of living in the present.  Something that has never been easy for me, but in the midst of a pandemic we have no choice.  We don't know what the weeks and months to come have in store for us.  I can just take things one day at a time and continue to approach each new challenge with grace and creativity.  The appreciation that my clients express to me each day helps me maintain a positive mindset and be at the ready to tackle the next challenge."  
Business Advisor: Brad Swanson 
Check out Wilcox Wellness & Fitness's Website and Social Media page! 
Website: https://www.wilcoxwellnessfitness.com/