By: Christina Oddleifson, Maine SBDC Business Advisor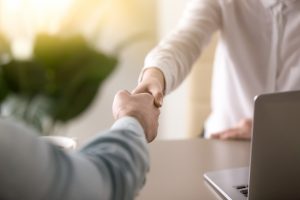 Finding the right professionals to advise you is an important step for a small business owner.  Understanding what services are worth paying for and what things you can do "on your own" is different for everyone.
At some point, however, you will probably need the advice of someone in a specific industry, like a lawyer or accountant.  If you are approaching lenders or investors, these stakeholders will want to know who is on your BAIL team (banker, accountant, insurance agent, and lawyer) to help you navigate the complex issues that inevitably arise when owning a business.
When to use Professional Services for your Small Business
Lawyers
When and how often to use the services of a lawyer depends on the complexity of your business, the risk associated with your industry, and whether you have employees. If you are setting yourself up as a sole proprietor or a single-member LLC in a low-risk business and have no employees, you may not need legal help in the early stages. 
But developing a relationship with a lawyer who specializes in areas such as business acquisitions, partnership, and legal agreements, compliance, trademarks/patents, business entities, employee relations, liability, and other areas, means you'll have someone to call when you need them.  
Accountants and Bookkeepers
At tax time, most small businesses find the services of a good accountant worth the cost. Accountants can also be valuable partners when it comes to buying or selling a business as they can help spot issues in the financial statements or help structure the purchase or sale to give you the best tax advantage.
But how much you use additional accounting services depends on the size of your business and your understanding of bookkeeping, financial statements, and financial management.  
If you don't think you'll be able to do your bookkeeping accurately or regularly, you may want to consider hiring a bookkeeper. At the very least, have an accountant or bookkeeper help you set up your accounting software at the beginning – it will save you time and money down the road.
Insurance Agents and Brokers
Educating yourself on required insurance for employers and the different types and standard coverage limits for property and liability insurance in your industry is an important first step for small business owners.  The size of your business, your business assets, and the industry you are in will dictate how much you should spend. Lenders will require that your business is adequately insured. 
To learn more about different types of business insurance check out the  SBA website. It's also important to understand the difference between insurance agents and insurance brokers. Having a trusted representative on your team who can help you through the specifics of your policy when you really need it is priceless. 
Payroll and HR Services
Most businesses know when they get to the point where doing their own payroll is too time-consuming.  Payroll companies can be a very efficient alternative when it comes to keeping up with paying payroll taxes, understanding wage laws, filing quarterly payroll reports, and reporting new hires and terminations to local agencies.  Payroll companies often offer additional HR services, but be sure these are worth the cost before signing up.
Marketing and Design Professionals
Effective marketing is vital to the success of your small business.  Yet many small business owners find they don't have the time to do more than basic advertising.  Developing your brand, designing a logo and website, doing keyword research and analyzing web traffic, developing effective email campaigns,  writing blog posts, keeping your online business information updated, and using social media effectively all take time.  
Hiring professional marketing firms might be a beneficial strategy for some businesses but these services can be expensive. Before you hire a marketing firm, figure out how to best fill in your knowledge gap, and see if you can set aside a specific time to work on implementing your marketing plan.  Check out our marketing resources for small businesses at the Maine SBDC. 
Most small business owners should use professional designers and photographers to develop a professional brand for their business unless they have a solid background in these services.    
Evaluating Professional Services for your Small Business
We recommend that you speak to at least three business professionals before choosing one.   We also recommend contacting the Maine Department of Professional and Financial Regulation to check on the status of a professional license or to determine if any complaints have been filed against a licensed professional.   
Below are questions to ask a professional to help you determine if they are the right fit for you.
Cost and price structure:

What is your rate? What types of fee arrangements are available to me? Flat, hourly, capped, contingency, other? 

 If there are others working on my project/service, how much will their rates be?

How often will my bills be due? 

Range of Services: 

What additional services do you offer? 

Do you offer packages of your services?  

Can you give me an example of why I would need this service?

Trust and expertise

: 

How many years have you been practicing or been in business?

Who is your typical client in terms of industry and size?

What is your area of focus?  Do you specialize in my type of business?

Accessibility: 

Will you be my primary point of contact or will I be working with someone else? 

What is your/their typical response time?

What information will you need from me? How many times will we need to meet?

Reputation: 

Can I talk to client references who either are like me in terms of size/industry or for whom you've done similar work?
Finding Professional Services for your Small Business
Word of mouth can be a powerful tool!  Check with people you know and trust in your industry or geographic location to find out who they use and if they are satisfied with the services. 
Check your local Chamber of Commerce and contact your industry trade association to find a list of professionals who serve your geographic area or industry. Or do a simple google search using specific criteria like "small business lawyers in Portland, Maine."
Using Online Services
Using online services may be the best strategy when you are first starting out, but developing long-term relationships with lawyers, bankers, accountants, and insurance agents who know your particular industry and the geographic market can go a long way when you really need them.
When finding professional services over the internet,  be sure you are accurately comparing costs as sometimes fee structures end up being comparable to using a local business.