On August 16, 2017, leaders from the Maine District Office of the U.S. Small Business Administration (SBA) joined the Maine SBDC on a tour of recent small business successes as part of a grant initiative in the Bucksport Bay Area.
SBA District Director Amy Bassett and Senior Area Manager James Pineau along with Maine SBDC's Betty Egner and Jennifer Sherwood met with several Main Street business owners who shared stories about their businesses, the Maine SBDC's role in their success, and about the determination of the towns in this area to redefine themselves after the Verso Paper Mill abruptly closed.

The group walked down a half-mile stretch of Main Street in Bucksport and stopped in to visit with local business owners and key partners who have been involved with the grant initiative. Stops included the following: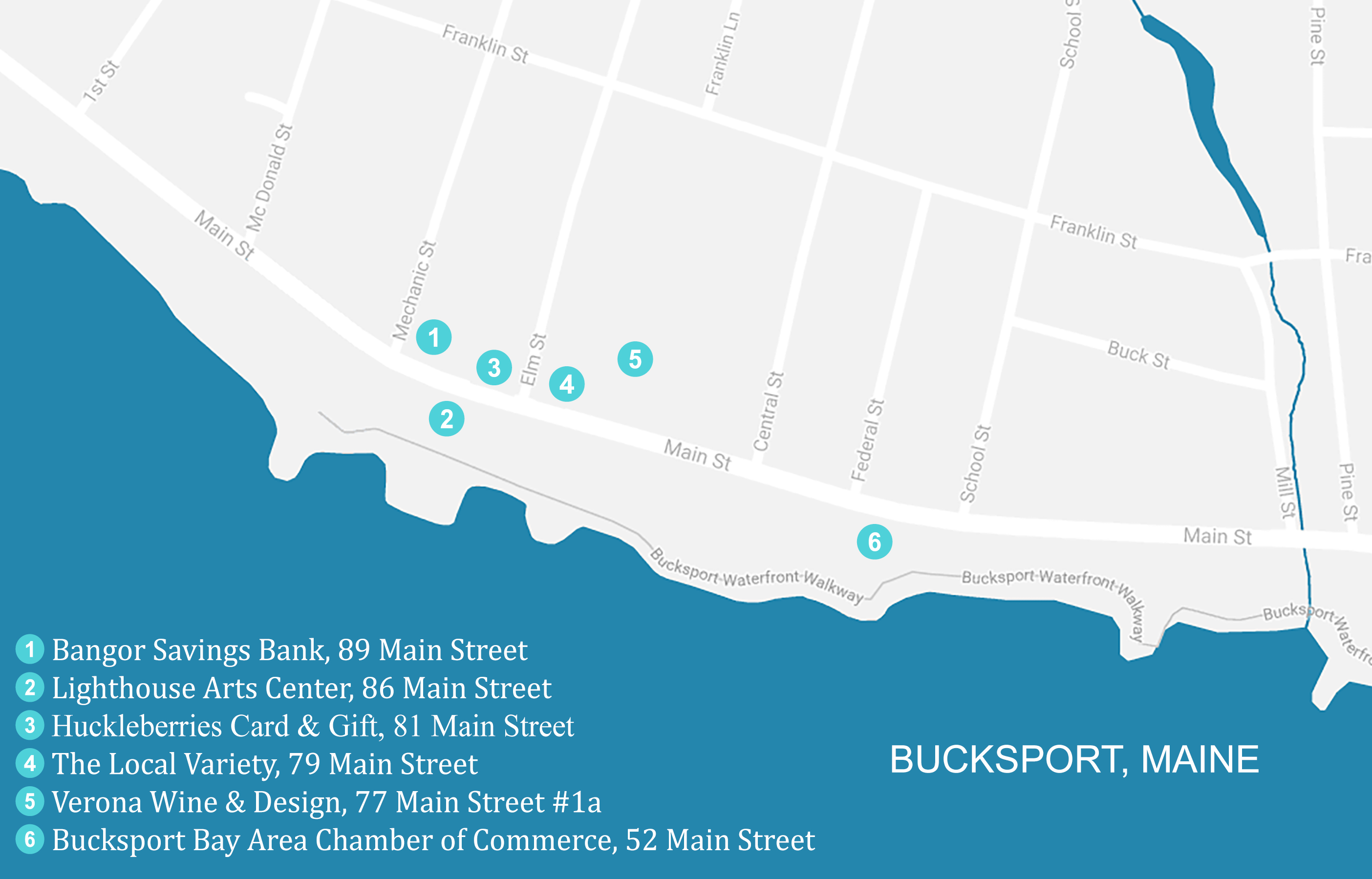 Bangor Savings Bank has been critical in the success of the Maine SBDC's efforts in the Bucksport Bay area. For the last two years, Bangor Savings Bank has graciously provided no-cost, confidential business advising space where Business Advisor Betty Egner regularly met with entrepreneurs and small business owners.
Kathy James, owner of Lighthouse Arts Center, has been a Maine SBDC client since early 2016. At the request of her bank, she met with Business Advisor Betty Egner who assisted her with her financials and various aspects of opening her new business. After much hard work and serious renovations to the space, Lighthouse Arts Center is now a key part of the downtown Bucksport landscape, drawing customers from afar after much press for their exquisite gallery and learning center. The Lighthouse Arts Center is a fine arts gallery featuring local artists, an artisan gift shop, and a learning center.
After hearing about the growth and exciting atmosphere in Bucksport, Diane Stimpson and her husband not only moved to town but also moved their Brewer business to this Main Street  location. Diane noted the welcoming community as well as the cost savings associated with operating her business in Bucksport. She's worked with the Maine SBDC on marketing and growing her business in this new location. Huckleberries is a unique card and gift shop featuring the best in Maine and American made products.
The Local Variety is located in the heart of downtown Bucksport. When the current owners decided to put the business up for sale, Jessica Carter jumped at the opportunity to own this downtown cafe in the town she loves. While she was new to the restaurant industry, she had a vision for the store and sought Maine SBDC's assistance to help her obtain the financing she needed to turn this dream into a reality. Since she opened in mid-2016, she's experienced incredible growth and support from the community, even during the slower winter months. The Local Variety offers freshly made breakfast and lunch items as well as local, farm products, natural body care items and handmade gifts.
Already running their successful online business selling items they make from re-purposed wine barrels, Colleen and Mike Gross wanted to open a retail wine shop and wine and tapas bar on Main Street in Bucksport. They sought assistance from Business Advisor Betty Egner to help obtain the financing necessary to achieve this goal. Egner worked to help the pair determine realistic and achievable financials, which not only helped them secure the loan they needed, but helped prepare them for the slower winter months. They credit Egner for being very conservative in her approach to their financial projections, which kept them on track through their first year. Verona Wine & Design provides an intimate dining experience, both inside and in their private outdoor courtyard. They frequently host unique and fun events. Their gift shop features custom products created from retired wine barrels, premium wines, and much more.
In addition to these Main Street businesses, the group had the opportunity to have lunch with two business owners (pictured above with Verona Wine & Design) who provide critical services in Bucksport.
Lynn Musetti,who owns TLC Bookkeeping, has been instrumental in assisting local businesses to set up and manage their finances in Quickbooks. Lynn provided valuable insight into the expansion of her business as Bucksport grows and expands its business community. TLC Bookkeeping offers bookkeeping, accounting and payroll services. They work with large and small businesses, individuals and nonprofits. 
Roxanne Jobe, who owns Square One Staging, turned to Business Advisor Betty Egner for advice and support as she started her business. Formerly with Bangor Savings Bank, Roxanne has been very involved in the growth of Bucksport and was able to provide valuable stories of its growth. She is now a successful realtor who offers professional house staging. Roxanne's husband also worked with the Maine SBDC to start A&J Motorcycle School, which Roxanne is heavily involved in as well.
6. Bucksport Bay Area Chamber of Commerce
The Bucksport Bay Area Chamber of Commerce has been a key partner in Maine SBDC's success in this area. Leslie Wombacher and Alecia Smith are the pair behind this very active Chamber, passionately serving the entire business community within a 25 mile radius of Bucksport. They've been critical in helping to market and connect entrepreneurs and business owners to the Maine SBDC business advising services and small business workshops. The Chamber is consistently coming up with unique ways to engage the community in order to support their member businesses. 
The Maine SBDC was awarded a SBA Portable Assistance Grant to develop an initiative that provides entrepreneurial advising and training to potential and existing business owners in the Bucksport Bay Area who have been adversely affected by the closure of the Verso Paper Mill.  Through the initiative, Maine SBDC hosted several successful business training and networking events and created a resource guide and a video series.  Since September 2015, Business Advisor Betty Egner has visited the area regularly to provide one-on-one business advising to entrepreneurs and small business owners, who have expressed gratitude for the services.
To view all the pictures from the tour, visit our Facebook page!