---
---
Revised 9/3/2020
The EIDL advance/grant is no longer available. The loan is still available.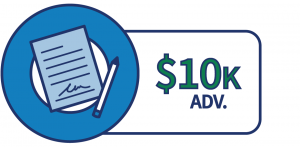 The U.S. SBA is offering low-interest federal disaster loans for working capital to small businesses impacted by the COVID-19. Through this process, SBA is provided an emergency cash advance of up to $10,000 ($1,000 per employee, $10,000 max) that you will not need to pay back. This advance is no longer available.
Who can apply?
In order to be eligible, you must be a small business (in most industries, 500 employees or less).
Maine small businesses directly affected by the disaster – common eligible businesses including retailers, restaurants, tourism-based businesses, manufacturers, owners of rental property, hotels, wholesalers, and many more.
Private nonprofits
Small agriculture cooperatives are eligible, but agricultural enterprises are not
Small aquaculture businesses
How to Apply?
You can apply for this loan on the SBA's website. You must complete the application in one sitting. More info or to apply, click here.
How do I access the $10,000 emergency cash advance?
The EIDL advance is no longer available. The SBA provided up to $10,000 ($1,000 per employee, $10,000 max) to applicants that does not need to be repaid. The funds can be used for employee leave, maintaining payroll, increased costs due to supply chain disruption, mortgage or lease payments, or repaying obligations that cannot be met due to revenue loss. 
How can the loan be used? 
The loans are for working capital which includes fixed debts, payroll, accounts payable, and other bills that can't be paid due to the disaster's impact. It does not cover lost sales.
How much can I apply for?
You will not be asked how much you would like to borrow. The SBA uses the information you provide to determine the loan and advance amounts. Small businesses can receive a secured loan up to $2 million, and an unsecured loan up to $25,000.
What is the lending criteria?

Credit History – Applicants must have a credit history acceptable to SBA. The SBA will look at extenuating circumstances and consider the impact of the pandemic on the business.
Repayment – As with all loans, you will need to prove you have the ability to repay. Repayment term can be as long as 30 years.
Collateral – To get loans greater than $25,000, you must provide collateral. Loans under $25,000 can be unsecured.
Other helpful info:
If you previously filled out an application and are interested in the emergency cash advance, you will need to complete a new application.
If you need to check the status of your application,

email 

disastercustomerservice@sba.gov

 

or call (800) 659-2955. 

You can get an SBA Disaster Loan and a Paycheck Protection Program loan (PPP), but

 the funds received from the loans 

cannot be used for the same purpose

.
What's next? What should you expect?
You will receive email confirmation that your application has been submitted
You will receive an email letting you know that your application is under review.
BE PREPARED: You will be contacted by someone from the SBA. Have your monthly expenses and financial projections ready (the SBDC can help with this!)