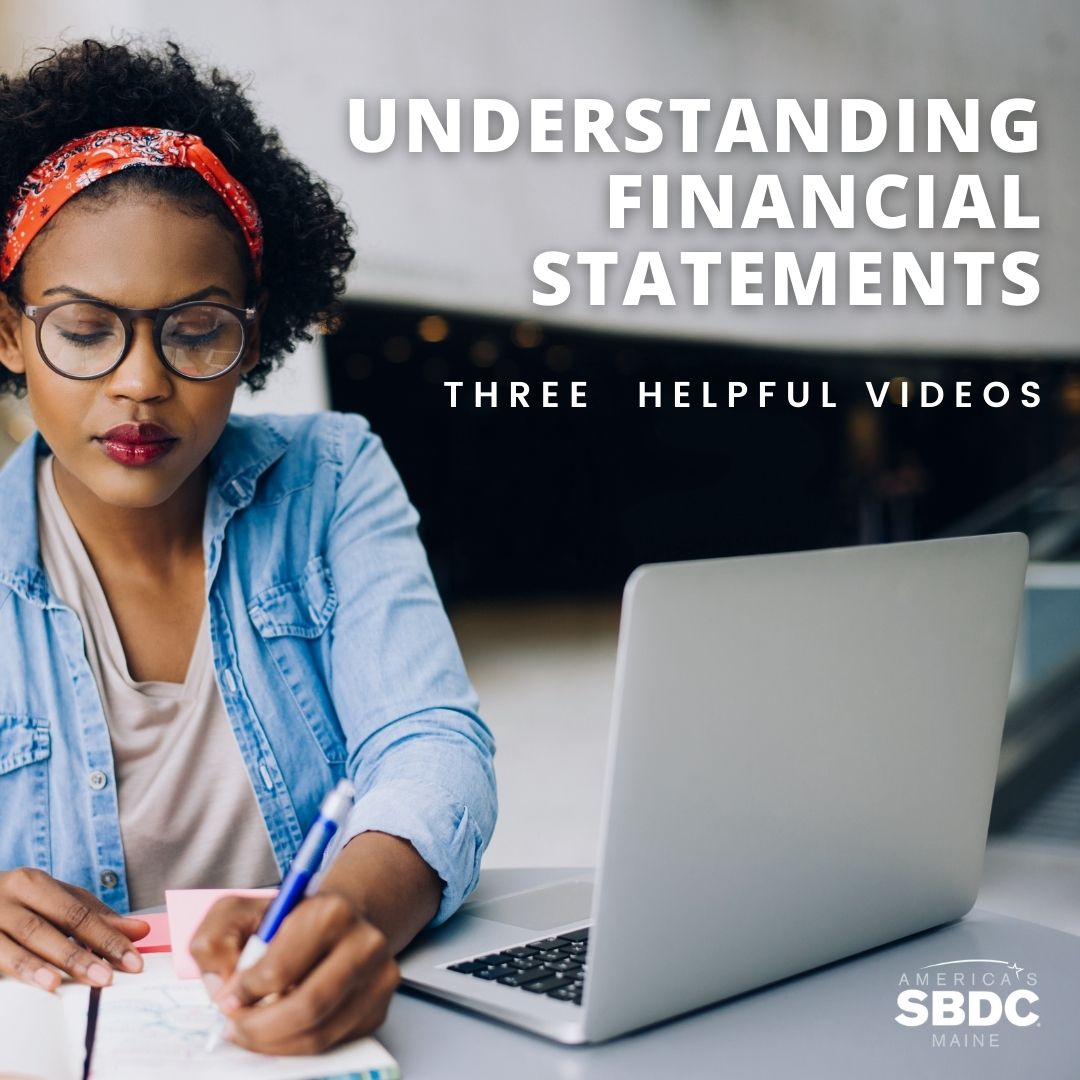 Do you struggle with financial management in your small business?  Are you intimidated by the income statement, baffled by the balance sheet, or confused by a cash flow statement?
You're not alone!
Most small business owners don't use their financial reports to their full advantage or only see them only as a tool to file their annual tax returns. This means you're missing out on opportunities to improve your profitability and make decisions that could impact your quality of life as a business owner.
The three major financial reports – Profit and Loss (aka Income statement), Balance Sheet, and Cash Flow Statement – are like secret maps to the inner workings of your business.  Using these tools can make you more efficient, profitable, and help you scale up to the next level.
Through a series of three short videos, Maine SBDC Business Advisor Tina Oddleifson will demystify these essential reports and show you how to use them to analyze your business so that you can make impactful management decisions.   
In this video, we'll explore the profit and loss statement, aka the income statement.  We'll go beyond the bottom line to help you understand how to use financial ratios to see how your business is really doing and what kind of decisions you can make to achieve greater profitability.
View Here: https://youtu.be/fhD2rl57a9c
The Balance Sheet is often ignored by small business owners, but this report is telling you whether your business is sustainable, strong, and healthy.  We'll take a deep dive into this report and explore the relationships between assets, liabilities, and equity and what a healthy balance between these three things really looks like.
View Here: https://youtu.be/3LqCLPsA_5Q
One of the top reasons small businesses fail is because they don't understand the difference between profitability and cash flow.  If you're always worried about whether you have the cash to make payroll or pay your vendors, then the Statement of Cash Flow will help you understand what impacts the flow of money in and out of your bank account,  and things you can do to manage it more effectively.
View Here: https://youtu.be/EzgYhpjKraM