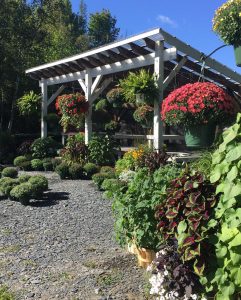 Trailside Gardens evolved from a lifelong interest in the natural world surrounding us, particularly plants and landscape design. For eight years, Trailside Gardens in Abbot has offered an impressive selection of healthy plant material. As a small nursery selling plants, business owner Pauline Eldredge was facing supply issues and decided she was ready and needed to expand her business. She was ready to increase her inventory and to purchase her own greenhouse where she would grow her own products. She had the vision and the skills, she just needed funding to support this growth. 
Pauline reached out to Maine SBDC at CEI for assistance in the early part of 2020. She began work with Business Advisor Ann McAlhany just as the COVID-19 pandemic began. The pair quickly moved to virtual meetings in order to keep momentum toward the goal. As with many in her shoes, the pandemic left her feeling overwhelmed and uncertain about taking on this new project. Together, the pair discussed her options and next steps. They broke the project down in small steps to make it manageable with all the other stresses the pandemic had caused. 
They developed a comprehensive business plan and financial projections. With these done, Pauline was able to secure several sources of funding to help grow her business. She accessed CEI's Wicked Fast Loan program as well as as a Revolving Loan Fund from Eastern Maine Development Corporation. With these funds, she was able to add inventory and double sales in 2020 despite the pandemic. She was also able to expand the nursery and growing area, purchase and install a production greenhouse, as well as pre-purchase inventory for the following year. 
Pauline comments, "Maine SBDC, specifically Ann McAlhany, was essential and instrumental in accomplishing my business goals. What was an overwhelming and daunting process before me became organized and achievable with her guidance and help. Ann's experience allowed the process to be methodically broken down into incremental components; allowing me to focus on the task at hand and accomplish it. With these incremental steps Ann was able to gather the information required and helped me develop financial statements, as well as an accurately written business plan with clear goals and objectives." 
Pauline and Trailside Gardens are ready to take on the 2021 season. She is optimistic that she will continue to grow her business, and now has the infrastructure to be more self-sufficient and better dictate the growth of her business. Trailside Gardens is located at 4 Moosehorn Road in Abbot. They are currently open seasonally from mid-May to September. 
To follow this growing Maine business, visit them: