Please join us in celebrating the career of Tom Gallant, who is retiring from the Maine SBDC on May 26, 2017. 
---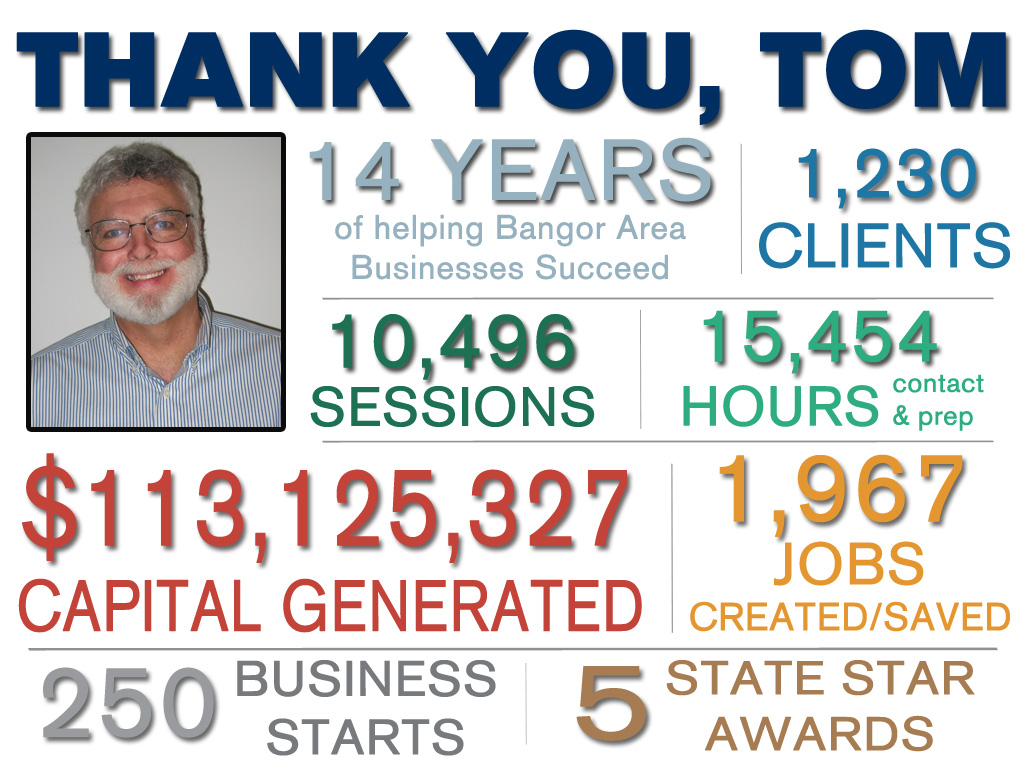 ---
As a business advisor and center director located in our Bangor office, Tom has been an integral part of the Maine SBDC staff for 14 years. He's helped over 1,230 entrepreneurs and small business owners to start 250 new businesses, save or create 1,967 jobs and obtain over $113 million in capital to start and grow their businesses.
Tom's deep knowledge in business financing and his management experience have been invaluable in the advising services he's provided to his clients.
"Tom Gallant is the reason we were able to get into business. Without his counseling we would not have been able to get our first business off the ground. Tom is a top five difference maker in my life; I feel incredibly fortunate that we were lucky enough to work with him." – Abe Furth, Woodman's Bar & Grill, Verve Burritos & Orono Brewing
Way, way back when Central Street Farmhouse was nothing more than a concept on paper, we met with Tom Gallant at the Maine SBDC to receive business counseling and guidance. Little did we know that our meeting with Tom would blossom into a 7-year business counseling relationship…at every step of the way, from expansion to crisis management, Tom was there to talk, brainstorm, and help us visualize the solutions and possibilities that we simply could not see. We are merely one of 250 businesses that Tom has helped to start and grow over his tenure with the Maine SBDC, and we know that we speak on behalf of the entrepreneurial masses when we say: THANK YOU, Tom. Best of luck in retirement! You will be missed! – Zeth Lundy, Central Street Farmhouse
"If I had to point to one single person who is responsible for making the dream of Maine Cloth Diaper Company and Central Street Farmhouse a reality, it would be this man. While small business owners and commercial bankers in every arena bandy his name about as the small business sage on the mountain top, most other people are unfamiliar with the scale of his impact on communities in Central and Northern Maine.

Walking around in Downtown Bangor I see business after business that has made it because of his efforts. He is quite literally the wind beneath our wings. He has been there to support and guide us through growing joys and pains. He has helped us reframe and redirect in our darkest hours.

I am going to miss his humor, advice and shoulder to cry on. Thank you Tom!" – Betsy Lundy, Maine Cloth Diaper Company
We've been so lucky to have Tom as part of our network. We hope you'll join us in wishing Tom the very best as he starts this new chapter of his life. You can contact him at: