You are not alone. The labor shortage has been crippling for small businesses across Maine. While the crisis is not new, the pandemic has amplified the problem. There is a variety of contributing factors to the labor situation including the availability of childcare, housing, and foreign workers. While nearly 7 out of 10 pandemic job losses have been recovered, there is still competition with enhanced unemployment benefits which are set to expire in September. Even once we've recovered from the pandemic, the Maine Department of Labor's outlook of the labor market is troubling, expecting a loss of nearly 16,000 jobs between 2018 and 2028.
Here are some tips to navigating the situation for your small business:
1. Consider Unconventional Workers
Expand your thinking. There are many programs around the state that work with individual populations to help connect them to employment. These populations might include:
Temp Workers through organizations such as PeopleReady
Those in Recovery or Ex-Cons through programs such as MaineWorks
Those with disabilities or mental illnesses through programs such as Unlimited Solutions Clubhouse
Student Interns through local universities
High School or Teenage workers (Be aware of their work limitations)
Retirees who might want a part-time job to keep them busy
Independent Contractors (Be aware of limitations on managing this type of labor)
2. Consider Where you are Finding People
Where are you finding your employees? Get creative about your outreach. Reach out to promote your jobs through Maine DOL JobLink, local high schools, AARP, flyers around your town (town office, grocery store, etc.), or a booth at a job fair. Reward employees and customers for good employment referrals. And, consider being more flexible about interviews. Depending on your industry, walk-in interviews are a great opportunity to hire on the spot.
3. Consider How You Sell the Job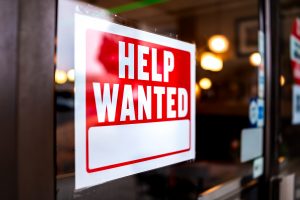 How are you highlighting your job and business in job postings? Consider ways you might add language that reflects your company's culture or ways you might stand out from other available jobs. Are there perks or unique offerings you could offer? These might include a housing allowance, on-site childcare, or a flexible schedule.
Use current high performers to help sell your jobs. Create a YouTube testimonial video or allow for one-on-one interviews with these high performers and applicants. These committed employees will help applicants feel more connected to your business. Use these same committed employees to get specific referrals. Ask these employees if they know anyone who might be a good fit for the specific jobs you are seeking.
The other side of the labor shortage includes adjusting the way you operate to get by with fewer employees. Here are a couple of things to consider as you run your business with limited staff:
1. Employee Retention
Hold on to your current employees and use them wisely. Don't let your employees be lured away. Focus on retention! Listen, respond, respect, and support those employees who are part of your team. Figure out what is important to them and focus on morale to keep them committed to your business.
We know that not every business can afford to pay their employees more, but there are many other nonmonetary things you can do to make the job more rewarding. These might include a focus on schedule flexibility, their relationship with coworkers (and you), cross-training and variety of tasks, and mental (and physical) breaks. In addition, many employees, especially those in hospitality, appreciate the support their managers provide when dealing with difficult customers. Providing pay, benefits, and/or bonuses are certainly helpful, but not always possible or necessary.
2. Working Smarter, Not Harder Limited
When working with fewer human resources, set realistic expectations. It's better to under-promise and over-deliver than to have customers and employees disappointed.
Modifications to your business that may need to be made include limiting hours or days open, simplifying product offerings, and/or cut back on service offerings. Where available, make these decisions by using your historical revenue data to cut less popular and profitable products, services, or days/hours with slower traffic.
Also, consider partnering with neighbors or even competitors.  Strengthen relationships with these businesses while simultaneously offering your customers an alternative to your shortcomings.  Just don't let them forget who provided the suggestion!
As you are making these changes, communication is absolutely essential. Make sure you communicate using the signage on your business, your website, your social media, and in-person conversations. Again, it's better to under-promise and over-deliver than have unhappy customers.
Other ways to lighten your load may include automation. Automation can help with repetitive tasks such as inventory control, reservations, or ordering kiosks. Outsourcing tasks that take up your time might also help. These might include hiring a local bookkeeper, a marketing firm, and other business services. Lastly, don't forget about the resources your friends or family can provide. Now is not the time to be shy – ask for help if you need it.
As you tackle this problem, remember you are not alone. To view Maine SBDC's webinar on navigating the labor shortage, visit our YouTube Channel. Or reach out to a Maine SBDC business advisor who might be able to help you navigate the situation specifically for your business.