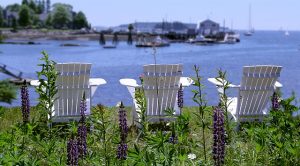 The sun is shining, temperatures are (finally) warming up, and the black flies are coming (sadly). It's almost summer in Maine, which means it's also a busy time of year for so many of our small businesses. 
Is your business ready? Will they remember your business and want to come back year after year?
Creating unique and memorable experiences for visitors will increase your sales and keep customers coming back. A win-win! We've highlighted three things you can start doing now that will help you have a better season!
1. Can they find your business online? 
Is your business listed on Google My Business? Is your listing up-to-date? Are the hours right? The menu? The summary? Have you claimed your listings on Yelp, TripAdvisor and other related review sites? Managing your profiles on these sites can help customers understand you and your business. You can interact with reviews (always do so professionally!), which helps customers to understand your commitment to customer service and can influence their decision to visit your business.
2. When they find you online, what will they experience? Will they want to come visit you?
Once they've found your website, will they see an active and engaging business web presence? Have you kept your website up-to-date? What about your social media channels? Are the two consistent in terms of branding and messaging? Is your sitemobile friendly? Customers want to be able to easily view your website and see that you are active on social media.
3. When they arrive at your business, will they enjoy the experience? 
You got them in the door, now what? Now is the time to WOW them! Training your staff on the importance of customer service will go a long way for your business. These satisfied customers are not only more likely to return to your business but are more likely to write the positive reviews online which will help get more people in the door.
Need some more help? The Maine SBDC has business advisors throughout Maine that can assist! Request no-cost business advising here.