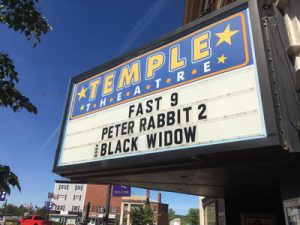 An Aroostook county classic for over 100 years, the Temple Cinema in Houlton is one of the oldest continuously operated movie theatres in the state of Maine. Multiple renovations kept the original charm and stayed true to the historic value even after the switch to modern digital projection.
When the pandemic hit, Houlton local Charlie Fortier had been the theater's owner and steward since 2016 and wasn't about to let the century-long run end. With assistance from his community and Maine SBDC at NMDC Business Advisor Jared Tapley, Fortier sought out alternative funding sources and ways to offset losses due to COVID-19 closures.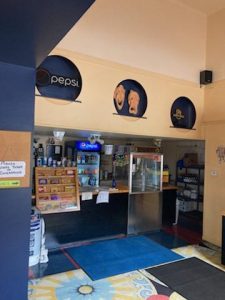 Tapley and Fortier gathered the necessary information to apply for and successfully receive a COVID-19 Micro-Enterprise Grant from the State of Maine's Community Development Block Grant. Later, they worked together to navigate the Shuttered Venue Operators Grant (SVOG) application process. SVOG was a long-awaited grant program from the U.S. Small Business Administration that provided major pandemic funding support for performing art and movie venues. In the end, their patience and hard work paid off with an approved award.
 Charlie Fortier commented: "Brandon and Jared were instrumental in connecting my business with grant programs that kept Temple Cinema going through financially hard times. We were relieved to be able to stay afloat, and have recently opened back up to the public thanks to this support."
 Business Advisor Jared Tapley commented: "I've been going to Houlton's Temple Cinema since I was 5 years old. It's a wonderful feeling to be able to assist my community with grant and loan programs to keep their doors open."
To follow this legendary Maine business, visit their: