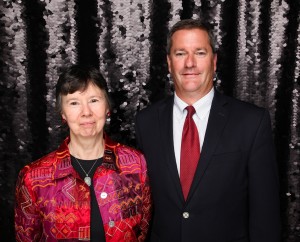 The Maine Small Business Development Centers (Maine SBDC) has selected Ann McAlhany as the 2015 State Star. The award, given annually, recognizes a member of the Maine SBDC staff that has shown exemplary performance and a strong commitment to small business success.
"Ann is an incredible asset to our program and role model among her peers. She is well connected within the small business community and works closely with our partners to ensure the success of her clients,"
said Maine SBDC State Director, Mark Delisle.
McAlhany is a certified business advisor at the Maine SBDC at CEI in Bangor. She works with entrepreneurs and small businesses in Penobscot and Piscataquis Counties to start and grow their businesses. In the 10 years that McAlhany has been with the Maine SBDC, she has spent 9,649 hours working with 909 clients. She's helped to start 57 businesses, create/retain 296 jobs, and generate almost $17 million in capital. In addition, McAlhany works closely with related small business programs such as Maine Center for Entrepreneurial Development and Maine Technology Institute.
Each year, America's Small Business Development Centers recognizes top performers from programs around the country at its annual conference. A special reception was held Tuesday, September 8, 2015 in San Francisco, California to honor this year's award winners.