IMPORTANT UPDATE (4-23-21): Application portal reopens Saturday, April 24
Businesses can now apply for both a PPP loan after Dec 27, 2020 -and- the SVOG!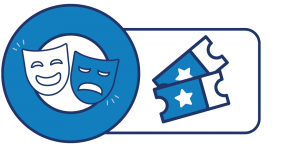 The purpose of the Shuttered Venue Operators Grant program is to provide aid to small business owners who have been hit hard by COVID-19 related shutdowns. The bill allows for $15 billion in grants to shuttered venues which can cover 45% of gross earned revenue for eligible businesses. Grants are not to exceed $10 million.
Who can Apply?
Live venue operators or promoters
Theatrical producers
Live performing arts organization operators
Relevant museum operators, zoos, and aquariums who meet specific criteria
Motion picture theater operators
Talent representatives, and
Each business entity owned by an eligible entity that also meets the eligibility requirements
Additional requirements:
Must have been in operation as of February 29, 2020
Venue or promoter who received a PPP loan on or after 12/27/2020 will have the SVOG reduced by amount of the PPP loan
Full details on who can apply are available here.  
How to Apply?
The application portal is expected to reopen soon. SBA is accepting SVOG applications on a first-in, first-out basis.
ACCESS THE APPLICATION PORTAL HERE: https://www.svograntportal.sba.gov/s/
Awards are expected to begin in late April and will be given in the following priority level:
First Priority

– First 14 days of awards will be dedicated to entities that suffered 90% or greater loss to earned revenue between April 2020 through December 2020 due to the COVID pandemic* 

Second Priority

– Day 15 through 28 will focus on awards to those who have 70% or greater loss to earned revenue between April 2020 and December 2020 due to the pandemic*

Third Priority

– Day 29 and after will be dedicated to any business with 25% or greater loss to earned revenue between April and December 2020 due to the pandemic* 
*Seasonal businesses only need to show losses between the corresponding operating periods of 2020 and 2019. 
How do to prepare to apply?
You must register with SAM.gov in order to receive funds from this grant, so it is in your best interest to get a DUNS registration number and use it to register within the SAM.gov system. Registration through SAM.gov can take up to two weeks, so the early you do this the sooner you can receive funds. More information on DUNS and SAM.gov can be found here.
Collect information needed for the grant in order to have it ready when proceeding with the application. Information to collect and organize includes;
employee documentation and monthly revenues to calculate the average number of eligible employees for the previous 12 months; 
determine gross earned revenue loss experienced between 2019 and 2020; 
floor plans; 
copies of contracts; and 
financial statements that demonstrate historical operation vs. operation in 2020.
A helpful checklist can be found here.
How can the funds be used?
Funds may be used for any expense that would be paid during the organization's normal course of business prior to 2-15-2020. Examples include:
Payroll and payroll costs (including owner pay)
Rent payments
Utility payments
Scheduled mortgage payments (cannot be used to prepay principal balances)
Scheduled debt payments (cannot be used to prepay principal balances) for any debt acquired before 2-15-2020
Worker protection expenditures
Payments to independent contractors (not to exceed $100K in annual compensation per contractor)
Other ordinary and necessary business expenses, including maintenance costs
Administrative costs (incl. fees and licensing)
State and local taxes and fees
Operating leases in effect as of 02-15-20
Insurance payments
Advertising, production transportation, and capital expenditures related to producing a theatrical or live performing arts production. (May not be the primary use of funds.)
More details can be found here.
Prohibited uses of funds include:
Buying real estate
Making payments on loans originated after 02-15-20
Making investments or loans
Making contributions or other payments to, or on behalf of, political parties, political committees, or candidates for election
Any other use prohibited by the Administrator