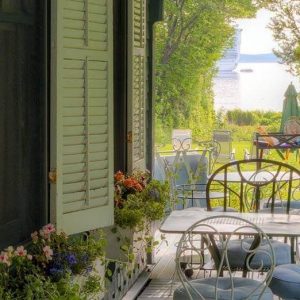 Shore Path Cottage is located on the coastline in Bar Harbor overlooking Frenchman's bay and less than two miles from Acadia National Park. They offer one the most comfortable and scenic B&B's in the State of Maine. Roberta Chester has maintained the history of the 1880 building while incorporating innovations and modernization for her guests. Amidst the COVID-19 pandemic, the Shore Path Cottage suffered immensely, having to close its doors due to safety concerns and guidelines. Roberta had to identify ways to sustain the losses from 2020, and that's when she contacted the Maine Small Business Development Center. 
Grace Mo-Phillips, Maine SBDC Business Advisor at CEI, assisted Roberta in the application process for the several local emergency relief grants. The two worked together to properly analyze and submit her financials and determine how much she would be eligible to receive. After completing the application process for the several grants, Roberta received grant funds that will ultimately make it possible for her to get the Shore Path Cottage up and running again.
Roberta comments, "I thank you for your help and moral support with all the paperwork. The grants will go a long way to making this possible. I am very proud and grateful to the great state of Maine which has given so much support to the small businesses which are the basis of our economy. At a time when it is rare to obtain personal service promptly, efficiently, and courteously, Maine is an example of "the way life should be"." 
Roberta and the rest of her team at the Shore Path Cottage have opened back up for the 2021 season exclusively as long-term rentals for families or large groups, which will include following all CDC guidelines put forth at the time to ensure a safe and healthy environment for everyone.
For more information visit their website: