By: Jennifer Boutin, Maine SBDC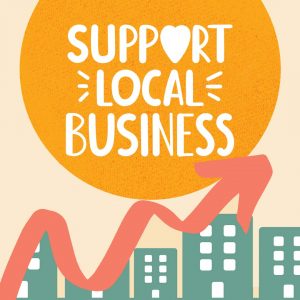 Maine would not be the same without the small businesses that make our communities unique, or without the hardworking business owners who create jobs for our families, friends and neighbors. Small businesses are the core of our economy, making up over 99% of businesses in Maine. 
And, these small businesses need you now more than ever. 
Why shopping small matters…
Shopping small feels good. 
Making an effort to support local small businesses is a big deal, and one you should pat yourself on the back for. It's easy to be lured by the convenience offered by giant retailers, but making an effort to support your favorite small businesses is truly worthy of pride. It shows your commitment to your community and to all that makes it special. 
Buying local supports a real person in your community. 
Take a moment to consider the impact of your spending this holiday season. Every dollar you spend at a local business makes a difference to a real person (and their employees) in your community. The pandemic has challenged small businesses this year, and there is a lot of uncertainty. Your purchases will make a huge difference in the lives of those right in your community.
Buying local strengthens your community.
Your local purchases are investments in your community and help keep them unique. Local businesses help create a sense of community in your town. They sponsor local sports teams, donate to local charities, and coordinate local events which makes your community a wonderful destination. 
Buying local for a better shopping experience. 
You are not just a number at your local small business, you are a valued customer. Small businesses work hard to nurture customer relationships. They know the ins and outs of their products or services and usually make sure their employees do too. They want you to feel appreciated and welcomed, and this makes for a more rewarding experience.
Ready to start shopping? Here's some tips:
Shop early
Last-minute shoppers beware – shopping will look different this year. Because of this, it's a good idea to start early, avoid the stress, and plan for shipping time (if you are shopping online). To encourage this, many small businesses are offering early deals.
Shop safely
Small businesses want to help you, but they also want their family to stay safe. Take advantage of online and curbside pickup options. If you shop in-person, be respectful and follow posted safety rules. 
Optimize shipping costs by ordering more
Unfortunately, most small businesses are unable to offer free shipping like many retail giants. To offset this cost, consider purchasing more products or services from a single small business. Typically, the more you purchase, the less impactful the shipping costs per product. 
Reach out with questions
Many small businesses are using e-commerce for the first time this holiday season.  Don't be afraid to reach out to the business to ask questions, get gift suggestions, or even to get a customized product. They want to help make your holidays special. 
Gift with pride
Let your family and friends know where you purchased their gifts this holiday season. Wrap the gift with a card or pamphlet from the local store or maker who provided the unique gift. Not only does this show support to the local business, but helps the receiver know where and/or who to purchase more from. 
When in doubt, purchase a gift card
Not sure what to get? Consider purchasing a gift card from a small business. 
Other ways you can help:
Review your favorite business, products or services. 
Most small businesses don't have a huge marketing budget. This means your reviews go a long way. Take time to review the products, services and businesses you love to show your support this holiday season.
Share and support your favorite businesses
Sharing and supporting your favorite businesses goes a long way. Share their posts, leave comments, and cheer them all. They need encouragement during this time, and your words mean a lot to them. 
Encourage your friends and family to shop small. 
Every single person and purchase makes a difference. Encourage your favorite people to join in your mission to support local small businesses.