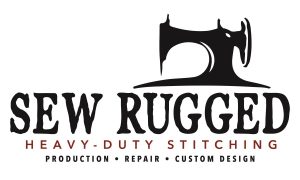 When the COVID-19 pandemic hit, Liz Meadows was forced to close the doors of her 17-year-old successful massage therapy business. She could not, in good conscience, put her clients or herself at risk of exposure to the deadly virus. An entrepreneur at heart, Liz took it as an opportunity saying, "there is nothing like the end of one career to kick-start another."
Being adaptable and creative, Liz decided it was time to pivot toward something new. She has since built a sewing studio offering production work, repairs for items requiring a heavy-duty sewing machine, and designing boutique items made from repurposed fabrics. Liz reached out to the Maine SBDC at CEI for help getting this new business off the ground.
Alongside Business Advisor Shannon Byers, Liz worked through the process of starting her business. They focused on decisions around the elements of her brand, building her online identity, and showcasing her work at local markets. At Shannon's suggestion, Liz registered with the Maine Procurement Technical Assistance Center (PTAC) as a vendor in order to open production opportunities from government contracts.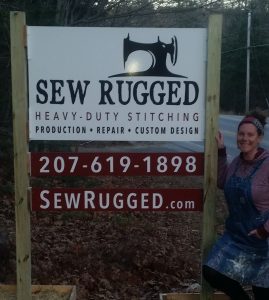 Liz says, "Regular meetings with Shannon helped me organize my thoughts and goals for the times in between our calls. The to-do list for a new venture is long, and her method of mostly asking questions and holding me to realistic timelines was extremely helpful."
Sew Rugged, located in Sedgwick, focuses on heavy-duty stitching, repair, mending, designing–anything that requires an industrial sewing machine or creative problem-solving. Liz loves repurposing Carhartt®-type workwear and working with new heavy-duty materials such as canvas, leather, vinyl, and upholstery fabric. She's repaired beloved toys and repurposed family heirloom clothing into new and useful things. Most importantly, she's found that though her skills in these endeavors may seem so different, similar threads run through both. She's still helping, healing, and finding solutions for clients.
Business Advisor: Shannon Byers 
For more information or to follow this new Maine business, visit:
Website: https://www.sewrugged.com/
Facebook: https://www.facebook.com/sewrugged/
Instagram: https://www.instagram.com/sewrugged/