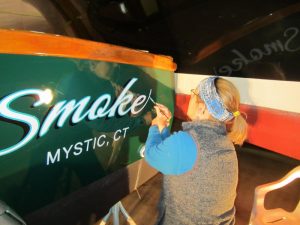 Sarah Brandon moved to Maine over 30 years ago, inspired by Maine's beauty and strong art community. She knew this was the perfect location to fulfill her artist aspirations. Sarah specializes in the traditional hand lettering for custom boats and small signs. She also creates watercolor paintings, unique durable floor cloths, cards, and many other art offerings all inspired by Maine's nature.
Sarah realized that she needed to be more accessible to her target market: To switch to digital design work for her custom boat clients, which would be more appealing to her customers and save her a significant amount of time. Sarah came in contact with the Maine SBDC seeking business advice for a smooth transition.
Shannon Byers, Maine SBDC Business Advisor at CEI, helped Sarah with planning for her business's growth. With Shannon's support and encouragement, Sarah implemented the design software, computers, and other essential digital assets to improve the efficiency of her work with clients. Sarah was also able to receive the funding along the way for her business expansion. 
Shannon connected Sarah to the Downeast Business Boot Camp, a program to help Downeast entrepreneurs with seminars, mentoring, and a pitch competition. This was a great opportunity for Sarah to showcase her work and enhance her business knowledge. After applying, Sarah was selected to participate, and she took the opportunity head-on. The Downeast Business Boot Camp experience helped Sarah refine her business and understand her customers, giving her the confidence to continue her business endeavors. 
With the guidance and encouragement from Shannon, the experience gained from the Downeast Business Boot Camp, and her own determined ambition, Sarah is in the process of transitioning her business model to fit the needs of her target market and the current trends for her trade.  Stay tuned!
Check out Sarah Brandon's work!