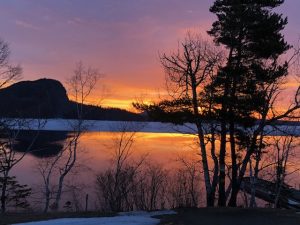 Rockwood Cottages consists of 7 two bedroom cottages situated on the western shore of Moosehead Lake in Rockwood, Maine. The cottages feature all the comforts of home and overlook the lake and popular Mt. Kineo, a majestic mountain that arises out of the water forming a sheer 700-foot cliff. 
With a motto of "A stranger is just a friend we haven't met yet," the business had been built based on quality customer service and experience. When the business owners decided to retire in 2017, they looked to sell to someone who would take care of their customers and the business which they'd worked hard to build for many years. With experience in the cabin rental and property management business, they found the perfect match in Emily and Dennis Bodemer.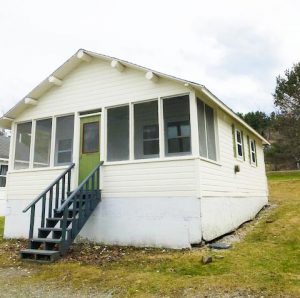 In order to purchase the business, the Bodemers needed financing, and their lender referred them to Maine SBDC Business Advisor Ann McAlhany for assistance. McAlhany walked them through the process. She first reviewed the current financials and tax returns of the seasonal business and discussed what could be expected in terms of income and profit, which would be enough to minimally service the loan payments on the business and prime real estate.  Several discussions were had about improving the property and increasing its revenue.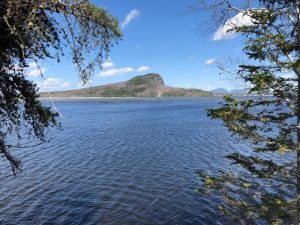 After meeting with the buyers and sellers and getting the parties on the same page, McAlhany helped the Bodemers prepare loan packages and applications which included detailed projected financial statements on the expansion of Rockwood Cottages from seasonal to year-round accommodations.
After many months and several setbacks, the Bodemers were able to secure loans from Eastern Maine Development Corporation, Machias Savings Bank, and the U.S. Small Business Administration  in April 2018 – just in time to open for peak season.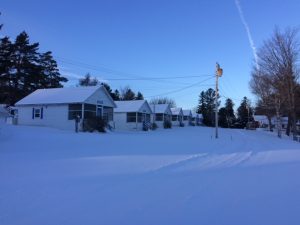 Now open year round, the business will host guests who come to enjoy the tranquility of the north woods or the recreational activities on and around Moosehead Lake and Mt. Kineo. Summer guests look forward to fishing, hiking, boating while fall guests are eager to hunt or ponder the glorious foliage.  Winter guests enjoy snowmobiling, ice fishing, snowshoeing, and skiing.
"The knowledge gained from being guided by Ann McAlhany through the process of having a vision and believing it could be done to actually owning said business cannot have a value placed upon it. The paperwork would have frustrated us, and we would not have known with whom to speak regarding financing. Taking a step at a time and searching out all options – options we didn't know existed – was amazing. We often said 'the average person on their own would NEVER have kept going'. We received confidence as well as knowledge with Ann's help.  We will encourage anyone seeking a development project to meet with a Maine SBDC employee." – Emily Gammon Bodemer, Business Owner
For more information on this growing Maine business, find them on the web  or follow them on Facebook!