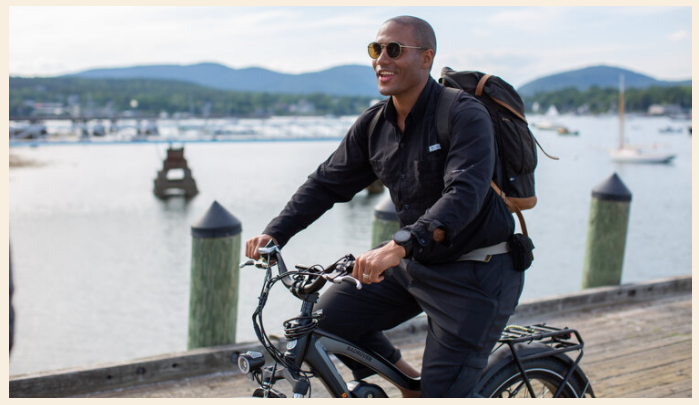 When we think about what it takes to run a small business, things like bravery, strategy and forward-thinking come to mind; many qualities found in our veterans and active military members. Kareem Dieng, an active Soldier in the United States Army Reserve, is an inspirational example of all three. Kareem wanted to combine his love for adventure, nature, and connection with his nearly decade of experience leading groups in the outdoors – from there came Rising Sun Adventure Tours.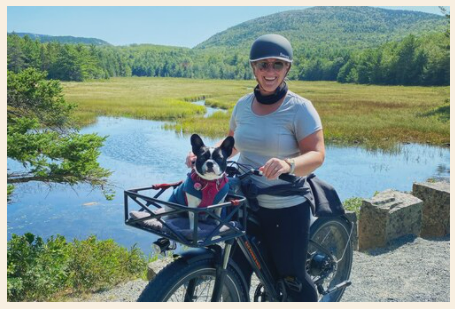 Focused on providing inspiring and playful experiences while exploring the natural beauty of Acadia National Park and the surrounding area, Kareem was referred to the Maine SBDC by a friend and fellow small business owner. Alongside Maine SBDC at CEI Business Advisor Alison Lane they worked through potential problem areas relating to liability, a partnership agreement, pricing, marketing, and the funding necessary to start his e-bike tour business. One aspect he was not willing to compromise on was his wish to give back to the local community. Partnering with Black Owned Maine and Land Back, he is committing 3% of proceeds to Bomazeen, a local non-profit Indigenous Land Back Land Trust. Now that Rising Sun Adventure Tours is open Kareem hopes to use his status as a local business owner to continue donating to and bringing awareness to causes important to him.
Kareem commented: "I cannot begin to express how integral Alison has been in the process of preparing and launching my business. I have spent years toeing the line, envisioning stepping off at the sound of the starting gun, but I could never seem to get myself across that threshold in my dreams. It wasn't until, through conversations and planning with Alison, I was able to open my eyes and grasp the hard action steps required to take that vision into fruition, and I am forever grateful for her guidance. From preparation, now into development and operations, Alison has helped me begin to realize my potential and turn a dream into reality. I now feel empowered to see this business through into sustainable success, and also follow through with other bigger picture goals that, prior to working with Alison and Maine SBDC, felt lofty and overwhelming. Alison's guidance has encouraged me to view my goals as tangible plans and given me access to the tools and resources I require to build my businesses and work toward developing real social impact and generational wealth. I cannot thank you enough Alison, and I will continue to be a raving fan and advocate for you, and Maine SBDC for the rest of my days."
For more information or to book a tour visit their website, Instagram or Facebook.