When Rick Osann retired as an art/theater/film schoolteacher in Southern Maine, he knew he wanted to continue creating art.  He began painting watercolor landscapes in the 1970s and painted professionally in the stage, film and TV industry.  Today, he focuses his work on Bar Harbor, Maine and Acadia National Park which provides endless inspiration. When he realized he had more paintings than wall space, he decided to start a business selling his work.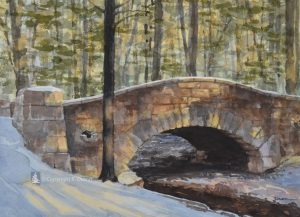 Osann reached out to the Maine Small Business Development Centers in search of assistance to make sure he covered the business aspects of starting his personal art business. He was looking for clarification about the details required to operate a business legally in Maine.  
Shannon Byers, Maine SBDC Certified Business Advisor at CEI, met with Osann through Zoom meetings and made sure he was on the right track. They covered the basics such as getting business liability insurance, setting up a separate business entity, and sales tax.  Osann had a website and worked with Byers to get feedback and suggestions to improve the site.  
Byers arranged for a Digital Marketing and E-Commerce Specialist to join the meetings and provide specific advising for Osann's website.  Topics such as social media strategies, email tactics, SEO enhancement, privacy and protection of his artwork, as well as establishing a Google presence were covered. They also discussed and brainstormed how to reach potential customers in-person and online.  
Osann says, "Shannon and SBDC were tremendously helpful as I was setting up a website to sell my paintings. Shannon provided some terrific resources, connected me with potential clients, and greatly eased the stresses of getting my business started. Thank you, Shannon and SBDC!"
Osann is now living his ideal retired lifestyle, doing what he loves as well as supplying the public with wonderfully original artwork that truly showcases Maine's landscapes. Osann has his website in full operation and is now ready to share his beautiful Maine art with those near and far! 
To View Rick Osann's work view his website and social media below: