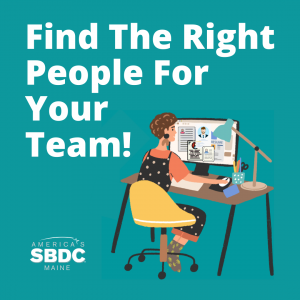 With the summer season right around the corner, you've probably already started thinking about different recruitment techniques for your company. In the last few years, there's been an ongoing shift towards focusing on the importance of smart recruitment techniques to improve results and the candidate's experience. There are many ways to attract talented employees to your company but you might be surprised at how much you can accomplish by trying a few different strategies.
Address the Wage War
Having a seasonal business adds on extra challenges when trying to afford today's wages and remain competitive. A great incentive for retaining existing employees and acquiring new candidates is embracing other strategies. Offer your new potential candidates a sign-on bonus, and for your existing employees, motivate them by offering year-end seasonal bonuses. This will allow your organization to bridge the gap between the wage rate and is not a recurring expense. Make sure your monetary incentives are measurable and drive the proper outcomes. Therefore, create a way to measure the end results by reviewing the retention rate of new hires within a certain period.
Re-Recruit Your Keepers
This recruitment strategy is valuable because it guarantees that you fill vacant positions with people who understand your company, its culture, and what is expected from them. Identify your most solid workers and motivate them with the right incentives. Encourage your employees to participate and engage in your decision-making process. Implement a streamlined communication process that allows employees to give feedback. Build bridges of connections with your staff, let them know that their input is valuable, and make them feel heard.
Launch an Employee Referral Program
Utilizing some of your own internal resources is a powerful way to harness your colleague's industry contacts. Your employees can serve as influential ambassadors for your company. They know the daily needs of your team and are better equipped to identify strong candidates than outsiders. Additionally, this can drastically speed up the screening process of vacant roles and allows you to tap into candidate pools you may not otherwise have access to. Ensure that the referral process offers incentives and clearly explains how it works and what employees get out of it. This approach will make onboarding smoother and foster camaraderie.
Develop a Company Culture

 
The Gallup Institute periodically conducts studies on top reasons why people work and where they work. The results show that compensation is not the primary cause behind an employee's decision to work for a company. Instead, the studies show that the number one incentive is the company's culture alignment with one's personal values. Most people value open and transparent communication, clear goals and objectives, and a positive work environment. Employees want to work for a company with a mission. Therefore, your culture and values should align with employees, customers, and the broader community. As a result, you will ensure that your company is filled with high-quality employees loyal to the company.
Use Social Media
Make use of your social media channels as a recruiting technique to increase your brand's visibility. Advertise new positions on several social media platforms by engaging in different creative methods. For example, create videos, be transparent, and share helpful and personalized content. This will help you strengthen your brand reputation while creating trust among future employees.
For more details and specific examples watch the full webinar on Recruiting – Thinking Outside the Box.
We'll be working with Terri Swanson of Swanson consulting on a series of HR-related webinars covering common approaches that could benefit you, your business, and future employees, starting with thinking outside the box! VIEW UPCOMING WEBINARS HERE.