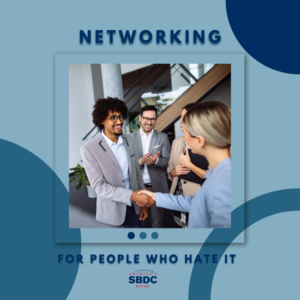 Some of the best parts of networking are meeting people from all backgrounds, building your business, finding new clients, and getting your name out there, but it can also be an uncomfortable experience. If you're an introvert, networking may be one of your least favorite activities. So here are some tips and tricks to make it effective and as stress-free as possible!
How Can Networking Benefit You and Your Business?
Increase Visibility and Credibility
While social media is an excellent way to establish trust between your business and your potential customers, networking events provide human connection and experiences you can't replicate online. That's why it's crucial to place a strong emphasis on in-person connections, which will lead to trust and credibility.
Boost Confidence

Studies show one of the differences between male and female entrepreneurs is their confidence level. Get comfortable with being uncomfortable. While it may seem like a lot of work, it can be a rewarding experience. Networking is one of the best ways to increase your confidence, learn new skills, and inform people about your business.
Be Part of The Community

In addition to meeting potential clients, networking is also a great way to build relationships in your community, industry, and with fellow business owners. You can learn valuable tips and tricks from your peers, which can significantly help generate conversation and learn about new opportunities.
Effective Networking Tips To get You Started

Set Clear Goals

Take the time to think about your goals and what you want to get out of networking before you go. Make the most of any event and set goals such as how long you plan on staying and how many people you want to meet. Keep a learning mindset, focusing on enhancing your brand and making contacts.
Wear Appropriate and Comfortable Work Attire
Creating a good first impression is critical, especially when building connections. If you are already mentally uncomfortable being there, ensure you feel physically comfortable. Determine the appropriate attire based on factors such as the venue where the event takes place, the people attending, and the image you want to create for yourself.
Be Mindful of Your Body Language
Body language can help or hinder how you are perceived. Eye contact and smiling are key. It can make you seem friendly, approachable, confident, and knowledgeable. So, be aware of your body language because you don't want to send out cold vibes by accident.
Have an Elevator Pitch
An elevator pitch about yourself or your business is a great way to make contact. Make sure to get the most out of every minute and keep your pitch concise and to the point.
Final Thoughts:
Stay away from controversial topics

. You don't want your table to erupt into a shouting match. 

Make sure you 

follow up with your contacts after the fact.

 You can connect with them via email or a networking website like LinkedIn. 

Business cards are made for networking events.

 Bring extra, and don't hesitate to share them with people you meet. 

A little attention to detail goes a long way.
For more details, watch the full seminar with the Center Director/Business Advisor Lori Allen, discussing the importance of Networking and offering practical tips and tricks.
Connect with one of our business advisors at the Maine Small Business Development Center (SBDC) to get step-by-step guidance and create a plan that best fits your business's needs and goals.