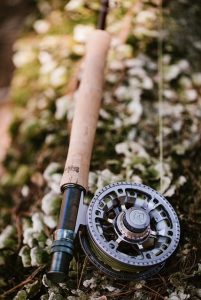 Jeff Davis had one goal in mind to celebrate his late father: to share his passion for Maine's fly fishing culture. Jeff wanted to provide high-quality, affordable small batch rods that are carefully crafted to reflect the beauty of Maine's waterways. Since opening in 2019, Jeff and his team have experienced promising growth and have plans to continue to expand the business. Jeff found the Maine Small Business Development Centers while seeking advice on the best approaches to expansion.
Peter Harriman, Maine SBDC Business Advisor at the University of Southern Maine, and Keenan Hendricks, Maine SBDC Intern, worked with Jeff through his planning process. Jeff and Peter identified ways in which he could receive funding for his expansion. They discussed his goals, legalities that would come along with those goals, and how to create a business plan that entailed both growth and options for pivoting throughout the COVID-19 pandemic. 
Jeff commented, "Peter and his team were incredibly supportive and responsive through this challenging year.  As a startup, 2020 was filled with numerous unexpected turns requiring pivots and deviations from our initial 3-year growth plans."
While discussing marketing and brand development options, Jeff expressed his dedication to the authenticity of offering all Maine-made products. They were able to use this to his advantage and develop a marketing strategy to move forward. Peter and Keenan assisted Jeff with a range of different digital marketing strategies to help him communicate the unique story behind Maine Fly Company. 
"In the case of Maine Fly Company, one of the few safe activities for our community was outdoor recreation.  In light of this we were excited to see so many getting outdoors and taking up fly fishing as a way to socially distance and reconnect with the outdoors," Jeff comments about his business during the pandemic.
Jeff Davis continues work on the expansion of Maine Fly Company, utilizing the marketing strategies that were put together to achieve his goals. Maine Fly Company supplies Mainers and fly fishers from afar with inspiration to "Fly Maine". They have created a community to share the love & passion for fly fishing, as well as opportunities to educate the public about the value of sustainable fishing practices.
Jeff notes the vulnerability he felt as he brought his passion project to the Maine SBDC for assistance, but comments "Once we connected, Peter made the process easy. The demeanor was supportive, curious and welcoming…The support material, feedback and live consults were instrumental to the plan's completion… Our work with Maine SBDC only expanded on the pride we have being a Maine Small Business.  It's encouraging to know such a great resource is available to us while we remain lean moving forward in uncertain times. "
Stay updated on Maine Fly Company's success through their website and social media: 
Website: https://maineflyco.com/
Instagram: https://www.instagram.com/maineflycompany/
Facebook: https://www.facebook.com/maineflyco