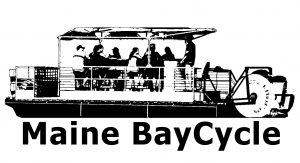 Neil Kinner, a Peaks Island native, came into the Maine SBDC after spending a summer in Portland, Oregon. There, he had captained a pedal-powered paddle boat, and wanted to bring this unique concept to Casco Bay in Portland, Maine. New to Maine and New England, the business would feature 10 pedal stations with seats for four more and would be entirely human powered, with a small solar powered back up motor in case of emergency.
With idea in hand, he needed financing in order to purchase the boat, and bring it to Maine. For this he sought out the assistance of Maine SBDC Business Advisor Peter Harriman. Together the pair worked to create a realistic business plan and projected financials. They worked on his narrative, timeline, marketing plan and the many aspects required to launch this unique business – hoping for a summer 2016 launch, the peak tourist season in Portland.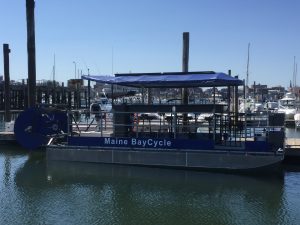 In May 2016, Kinner secured over $97,000 in financing from Gorham Savings Bank. He purchased the boat, drove it across country and launched Maine BayCycle in early June 2016.
Maine BayCycle offers 90-minute tours of Portland's waterfront, giving riders an opportunity to see the city from water level. Guests can pedal as hard or easy as they want to they'd like, and are welcome to bring refreshments aboard.  They also host birthday, bachelorette and business team building events.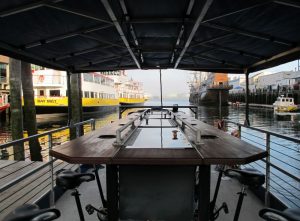 Kinner comments, "I could not have started this business without Peter and the SBDC, it's an excellent resource and I've been advocating it to everyone that's even mentioned starting their own business to me."
Kinner continues to work with Harriman, as they review his first season in business and find ways to grow and improve the business.
For more info on this unique business, visit their website or follow them on Facebook.