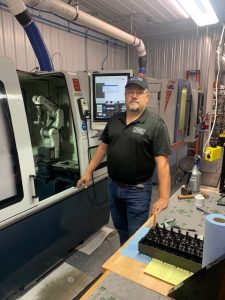 Specialty products are produced using special tools, but when each of those tools is made up of extremely specialized parts, you'll need the help of someone like Brian Beland from KV Tooling Systems in Augusta to make them for you! Beland started working with Maine SBDC at CEI Business Advisor Brad Swanson in 2001 when KV Tooling Systems was just him in a basement.
Over the past twenty years, they have developed a supportive working relationship and during that time Brian has created a thriving business producing tooling to meet a wide variety of industrial needs including those used in the production of COVID rapid tests! Swanson was working with Beland on the process of navigating his financing sources and uses for a business expansion when the pandemic hit, and everything was put on hold.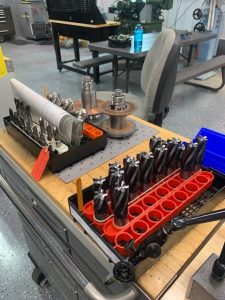 Throughout the past year Beland may have had to shift his priorities but by continuing to work with Swanson from the Maine SBDC at CEI, Beland applied for and received a PPP loan through Camden National Bank and was also awarded funding from the SBA's EIDL program, both part of the federal pandemic financial relief extended to small businesses nation-wide. Funding from these programs made it possible for the business to retain or rehire most of the employees and ultimately succeed in their expansion!
Brian and his crew spent this past winter focused on renovating the company's newly acquired building and this spring KV Tooling successfully moved to its new location on Route 17 in Augusta, not far from their original location! The new building has three time the floor space (and a lot more parking) than the company's previous location which will allow for the addition of more state-of-the-art machinery, a shop-wide HVAC-climate control, energy efficient LED lighting, and a separate room for oil filtration, compressed air and mist collection.
Brain commented, "I have truly enjoyed working with Brad and the SBDC/CEI over the years. Brad really is in it for small Maine businesses. Every time I am unsure of something I go to Brad first and he always delivers from his wealth of business knowledge. Brad never talks down to his clients. He realizes that many small business owners are tradesmen and women that have no formal business education but are experts in their field and he really respects that. Maine is very blessed to have Brad and CEI as a resource."
For more information please visit their: