Please join us in celebrating the career of Janet Roderick, who is retiring from the Maine SBDC on July 7, 2017. 
---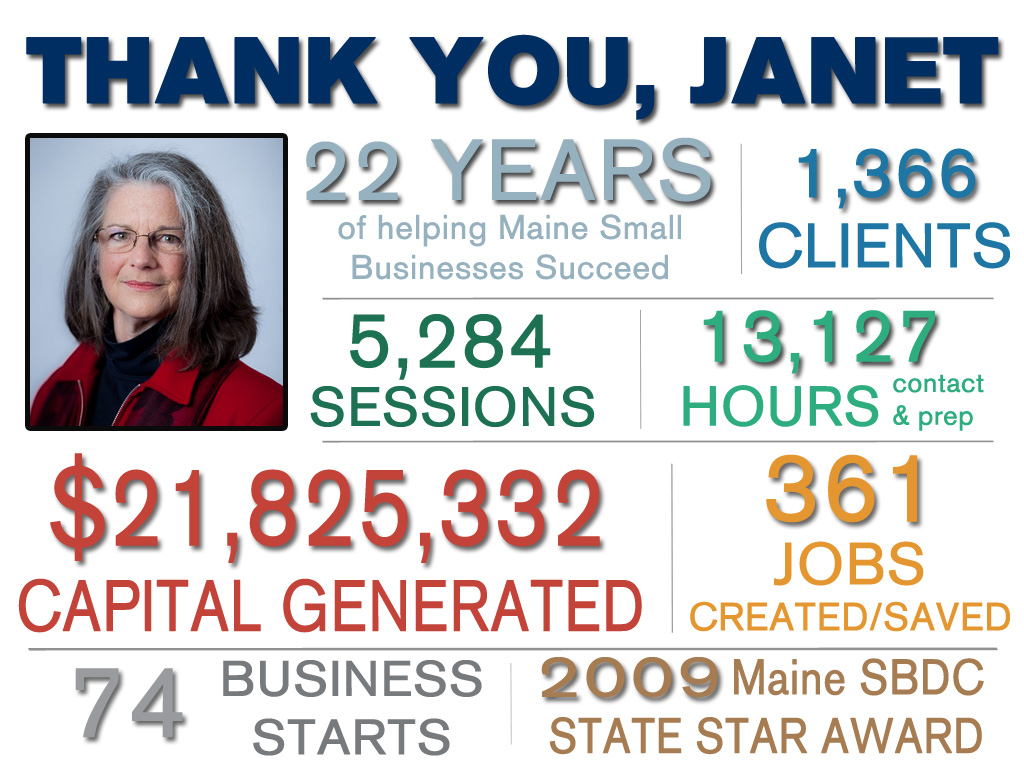 ---
As a business advisor located in our Fairfield office, Janet has been an integral part of the team for nearly 22 years. She's helped over 1,366 entrepreneurs and small business owners to start 74 new businesses, save or create 361 jobs and obtain nearly $22 million in capital to start and grow their businesses.
Janet's superior skills in accounting, financial analysis and Quickbooks plus her extensive knowledge of agricultural-based business have been incredible assets to her clients throughout the years.
"Janet has been a critical guide to me and the development of Blue Ox Malthouse. When I first approached her, I had little more than excitement and an idea. With steady advice and support she helped me refine my idea into digestible chunks and steps that slowly and surely allowed me to build momentum and bring my idea to life. While I will miss working with Janet, I am excited for her to move on to the next phase in life and wish her nothing but the best!" – Joel Alex, Blue Ox Malthouse
"Janet has been my coach, mentor, confidante, and more importantly, my friend.  I can't imagine running my business without her.  I compare her presence in my business to that of a lighthouse guiding ships at sea.  I will feel lost without her shining light.  I will be forever indebted to her for believing in me and helping me make my dreams manifest in the world." – Eva Goulette, Dancing Jaguar Inspirations, LLC
"Janet set me on my path at Maine Grains.  Having never started or run a business before, she taught me how to write a business plan and imagine my role in the business, both at the beginning and into the future, so that I could make a plan to work toward.  Congratulations, Janet, on giving so many businesses in central Maine a strong start!  Thank you." – Amber Lambke, Maine Grains
"Over the years Janet has spent hours of her time helping me learn proper accounting techniques from the ground up. We've worked on creating solid Quickbooks accounts for a number of nonprofits as well as my own business. Her patience, and way of teaching is extraordinary. She's not only been a great friend but an incredible resource to our community. I don't know where I'd be without her!" – Amy Rowbottom, Crooked Face Creamery
We've been so lucky to have Janet as part of our network. We hope you'll join us in wishing Janet the very best as she starts this much-deserved new chapter in her life. You can contact her at: