By: Business Advisor Peter Harriman
Often small business owners scour the internet trying to find information or answers. ​Often they resign themselves to hiring an accountant, and other times they call me up hoping that I can offer some wisdom. I work for the Maine Small Business Development Center in Portland, a free and confidential business advising service. More often than not, because I am not an accountant, I end up first guiding my clients to a wealth of information that can be found​ for free​ at the IRS website.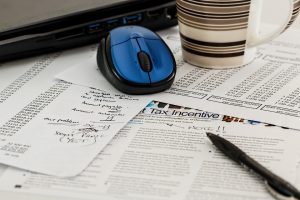 The IRS has taken great strides to keep the website updated. They offer an Interactive Tax Assistant for Questions, detailed PDF publications on topics, and videos for free. While it is true that the materials are written to answer general situations or questions, often this is enough for the client to feel comfortable in understanding more of the​ir own​ situation. With the IRS site, any business owner can educate themselves to help make any time they do have to spend with an accountant as productive as possible. I always advise a client to talk with an accountant about specific tax questions. 
Some of the more interesting IRS ​pages that I feel every business owner should check out are:
If you are a visual learner, here is a link to their videos.
​And if you have a limited amount of time and can only read a couple publications, these are what I would suggest:
More importantly, with the end of the 2016 calendar year many business owners will be preparing their annual tax returns. This is a great opportunity to discover the IRS website and especially the IRS Calendar tools found here. There are many important tax dates to remember and the IRS wants to make sure you remember all of them! 
Lastly, if you are in the greater Portland area, join me at one of my three workshops to go over the most common tax issues a small business filing a schedule C has. Registration is free, but seats are limited. Workshops will be held:
Saturday, February 11th

 from 10 – 11:30 am – REGISTER

Wednesday February 22nd

 from 10-11:30 am – REGISTER

Monday, March 6th

 from 5-6:30 pm – REGISTER
If you aren't in the Portland area and could use some guidance, find the business advisor nearest you.