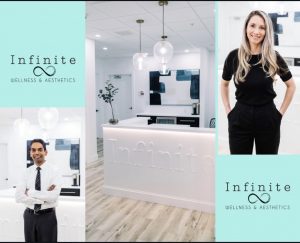 Brandi Barden and her husband have both worked in the medical field for many years, which is how they came across a very specific niche in the market; Medispa, also known as aesthetics. They found that this could be a unique opportunity to shift to a different area within the medical field. They envisioned this business would be named Infinite Wellness & Aesthetics, offering various aesthetic services: Non-Surgical Body Contouring, Cellulite Reduction, Skin Resurfacing, Skin Tightening, Microneedling, Laser Hair Removal, and Botox to the Greater Portland Area. Brandi and her husband however needed assistance in the business planning process, so they reached out to the Maine Small Business Development Centers for help. 
Susan Desgrosseilliers, a Maine SBDC Business Advisor, worked with Brandi over an eight-month period helping her form their written business plan, the business structure, financial projections and marketing. As if that wasn't hard enough, throughout this eight-month planning and structuring period both Brandi and her husband were working full time! 
Finally, the Infinite Wellness & Aesthetics team was successfully approved for the proper loan amount needed to get the business up and running. They now have officially opened Infinite Wellness & Aesthetics located in Yarmouth Maine, optimizing the aesthetics experience by providing clients with a unique wellness opportunity through aesthetic medicine! 
Visit Infinite Wellness & Aesthetics Website and Social Media platforms for more information: