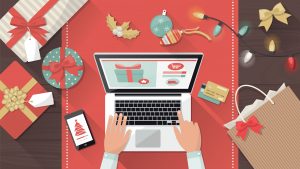 By: Maine SBDC Business Advisor Alison Lane 
As we close the year with the same uncertainty that plagued our Spring, Summer, and Fall, small business owners hope to capitalize on the season that is "merry and bright".  However, changes to consumer behavior, recovering markets, and the scars from many rough months make the success of Black Friday, Christmas, and the other major spending holidays unknown.  How can businesses make the best of the 2020 holiday season with their marketing efforts?
Understand Most Loyal Customers
First, consider the segment of your customer base that purchases from you most regularly, sing
your praises to their friends & family, and refers to you as their "go-to".  These folks are your target market.  For this group, recognize:
Demographics

: Are they male or female?  What is their income level?  How old are they? Etc.

Habits

: What do they like to do?  What is their daily schedule like?  Etc.

Behaviors

: Where and how do they shop?  Are they price-conscious? Etc.

Values

: What is most important to them?  Why do they buy from you?  Etc.
Acknowledge Changes to Consumer Behavior
How has your target market's habits, behaviors, and values changed because of COVID?  Here are some general changes to consumer behavior:
Safety First

: Most of the U.S. population is concerned about the pandemic's effect on their health or the health of their loved ones, so they are practicing

"

safe shopping

".  Safe shopping involves taking advantage of delivery, take-out, curbside service, and buy-online-pick-up-in store options.  It also involves shopping during less busy hours and avoiding the biggest/busiest stores.

E-Commerce Explosion

: Folks are shopping more online, spending more time on social media, and attempting to fill the void of in-person interaction with the worldwide web.

Price-Consciousness

: In addition to widespread layoffs, consumers are generally

not feeling confident

about their spending power right now.  Uncertainty of health metrics and the threat of a future shutdown has made even folks with steady jobs nervous to spend unnecessarily.

Trying New Brands Online

: A recent CouponFollow survey indicated that 73% of respondents shopped at least 1 new online retailer during the pandemic.  These numbers even include 76% of baby boomers surveyed.  Folks are shopping around because their lives have been changed and some of their old go-to businesses are not serving them in the same ways.  Even Amazon has reneged on its 2-day shipping guarantee during the pandemic.

Social Responsibility

: Consumers (particularly young consumers) are putting their money where their mouth is and engaging in activism.  According to SmallBizDaily.com, 38% of Americans, including greater than 50% of millennials are boycotting at least one product in the fall of 2020 (up from 26% in January 2019).  
Remember to think of your target market when considering the above changes to behavior.  Are your customers more price-conscious right now or not?  Are your customers interested in trying new offerings or do they just want you to sell the same thing you always have to make them feel normal?  
Get Online and Do it Quick
Be realistic about how much time is left before the holidays.  There may not be time to revamp a whole website, establish a new social media page, and following, or draft shipping policies.  Set attainable goals for what needs to be accomplished for the 2020 holidays, then attack the more time-consuming marketing strategies after the first of the year.
Whether or not you already sell online, here are some quick and easy ways to engage in e-commerce THIS YEAR:
Join an industry-related Facebook group such as Buy & Sell Local Maine Made Products, Maine Online Craft Fair, or Bangor Area Restaurants and Foodies.  (

Remember to follow each group's rules for marketing, buying, selling, and behaving!)

Sell on Facebook Marketplace, Etsy (Etsy.com/sell), or Instagram (Business.instagram.com)

Get started with PayPal or Square to accept contactless payments received by phone, email, or social media message
Evaluate your Pricing
Do you need to increase your prices?  Many business owners are very afraid of raising prices and scaring away customers…even if nobody has EVER complained about their prices.  You need to evaluate your pricing regularly because of inflation and ever-increasing costs.  You also need to recognize when what you are offering gains value and consumers are willing to pay more.
Break your offerings up into categories and determine how much money you make off each unit sold (gross profit).  That amount is how much you have left to pay all overhead/fixed expenses, including rent, utilities, insurance, your salary, and more.  To calculate gross profit:
Price – Variable Cost = Gross Profit
Variable costs include all costs that vary the more units you sell.  Variable costs may include (but are not limited to) ingredients, materials, price to purchase from a supplier, labeling, shipping, packaging, and sometimes labor.  Your SBDC Advisor can help you evaluate your pricing!
Increase the Perception of Value
Do you need to justify a price increase OR convince a nervous market to buy from you over the competition?  If so, you need to increase the perception of the value of your offerings.  Here are some ways to do so:
Optimize customer service (Train your staff to go above and beyond, offer curbside pick-up, or set auto-responses to frequently asked questions via email or Facebook messenger)

Offer a little something extra (such as the "hot towel finish" at barbershops/salons, mints at The Olive Garden, or a wish list option for retail shoppers

Merchandise the product in your store to make it look special

Serve food or beverages in unique dishware

Partner with complementary local businesses to see if you can pair your products together and sell as a bundle. This strategy could be extra helpful in reducing shipping costs!

When possible, offer free shipping by incorporating the price of shipping into product cost or overhead.  Consumers don't see value in paying for shipping.
Communicate, Communicate, Communicate
Communication and appropriate messaging have been important since the start of the pandemic.  Do not underestimate how much your customers want to hear from you and do not assume they know what you are doing behind the scenes.
Continue to highlight how you are keeping customers and employees safe from the virus.  As we come into the busy holiday season, remind them about updated cleaning practices, changes to your physical space, and other precautions that have been put in place.

Update days/hours, safe practices, and offerings on all marketing platforms including (but not limited to) your website, your social media pages, Google My Business, review platforms like Yelp, and signage.  Be clear about what days you will be closed for the holidays.

Streamline messaging and images across e-commerce channels.  Do not post the same exact content over and over again, but make sure your language, keywords, the coloring of logos, etc. are consistent.

Use the holidays as an opportunity

to stay in touch

or

get back in touch

.  If possible, send handwritten holiday notes via snail mail to your top customers wishing them happy holidays.  Do not use it as an opportunity to sell; instead, think of it as a chance to build on your relationship.  Send personalized emails if the cost of postage is too high to reach as many customers as you would like, but a handwritten note will be far more memorable and effective.
Last but certainly not least, take a moment for yourself this holiday season.  Pat yourself on the back for surviving what may have been the most challenging year in the history of your life as an entrepreneur.  Hopefully, the holidays are a time to cut your losses and close out the year on a high note but don't beat yourself up if they fall victim to COVID and are slower than normal.  You can get through these challenging times:
Keep a level head when possible.  If you feel yourself straying from logic, take a breath, take a break, or seek wisdom from your inner circle.

Focus on what you can control instead of fueling bitterness.

Let your local Maine SBDC Advisor or other trusted resources help!