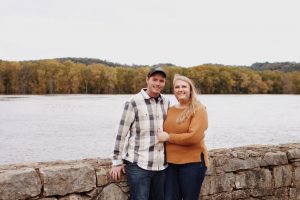 When Hallye Anderson contacted the SBDC in February, she and her partner Glenn Richardson were working on a plan to launch their new business, Game Fish Guide Service. They were looking for an outside review of their plan and needed help obtaining a loan to fund their startup costs.  Glenn is an avid fisherman and licensed Maine Guide and Hallye has the skills to manage the operations side of the business. Their plan was to start offering trips on the inland lakes and coast of Maine with an eye toward expanding to other New England states over time.  Like many people just starting out, the two will continue working other jobs until their business is fully established.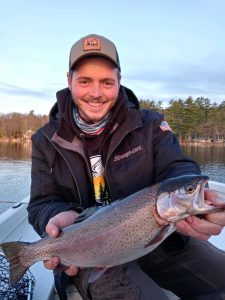 SBDC Business Advisor Tina Oddleifson worked with Hallye to develop realistic financial projections and helped her understand the importance of cash flow to the long term viability of their business. After adjusting the plan accordingly, Hallye and Tina decided that a microloan from partner organization CEI would be the right fit. Hallye successfully obtained a $9,000 working capital loan from their "Wicked Fast Loan" program which requires applicants to work with a business advisor like Tina.
In addition to financing, Tina and Hallye also discussed the marketing plan for Game Fish Guide Service.  Thanks to additional funding from the federal Cares Act program, the Maine SBDC has hired marketing specialists to help its clients get expert advice on digital marketing.  With the help of Kathy Fisher from Fisher Green Creative, Hallye received excellent feedback on how to make her site more user friendly and better represent her business.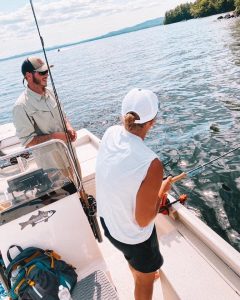 Hallye Anderson: "When I reached out to SBDC our business was just in the start up phases and we were brand new entrepreneurs. I knew we needed help coming up with a comprehensive and effective business plan and obtaining funding to help keep us afloat as our business grows through the slower fishing months. Tina jumped in right away and helped review our business plan making sure we were setting ourselves up for success. She was thorough and answered all questions. I feel so lucky to have been partnered with her and have her support and advice throughout this whole process. I can't say enough good things about Tina and SBDC as a whole. Their services are priceless and small businesses are so lucky to have them as a resource."
Game Fish Guide Service officially launched in Maine this summer and Glenn and Hallye are sharing their love of Maine with visitors and residents alike.  To learn more about them, or to book a trip, visit Game Fish Guide Service.