In August 2020, Maine SBDC partnered with Richard Arend from the University of Southern Maine to survey hundreds of Maine small business owners. The survey sought insight into how businesses have been impacted by the pandemic and the steps they have taken as a result.
Here's our findings…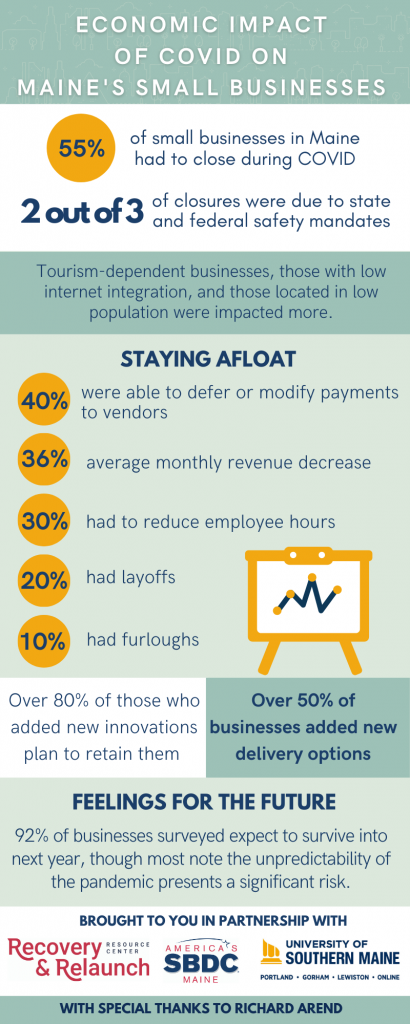 Impact of Closures
Approximately 55% of small businesses in Maine had to close during COVID. Nearly two out of three of the closures were due to state and federal safety mandates. And, some were more likely to be impacted by closures including tourism-dependent businesses, those with low internet integration, and those located in low population areas. 
Staying Afloat During Trying Times
Most small businesses experienced a reduction in monthly revenue, averaging a 36% decrease. In response, businesses largely reduced fixed or overhead costs, obtained new financing, reduced variable costs, and worked to increase revenues. Nearly 40% of firms were able to defer or modify payments to vendors. 
Approximately 45% of respondents and 57% of sole proprietors had to for go their own salary in order to keep their business afloat. Approximately 30% of businesses had to reduce employee hours, over  20% had layoffs, and 10% had furloughs. Employees of Maine businesses have been supported by the Paycheck Protection Program, physical layout changes, additional health and safety training, and remote working options.
The Impact of Innovation
The pandemic has emphasized the importance of innovation, and those that embrace it are more likely to survive in the future. In addition, over 80% of those who added new innovations plan to retain them. Over 50% of businesses added new delivery options, the biggest innovative step noted. Other noted changes include physical changes to location, adding new products or services, and incorporating e-commerce options. 
What are business owners worried about?
Small businesses are chiefly worried about cash flow. They are worried about paying their bills, generating revenue, re-engaging customers, and accessing capital. 
Feelings on The Future
Most small businesses remain optimistic – 92% expected to survive into next year, though most note the unpredictability of the pandemic presents a significant risk. Of the 8% with less confidence in the future of their business, nearly 70% had to temporarily shut their doors, a sign of the true impact of the shutdown. These business owners tended to be more service, retail, or tourism oriented with no or low internet integration