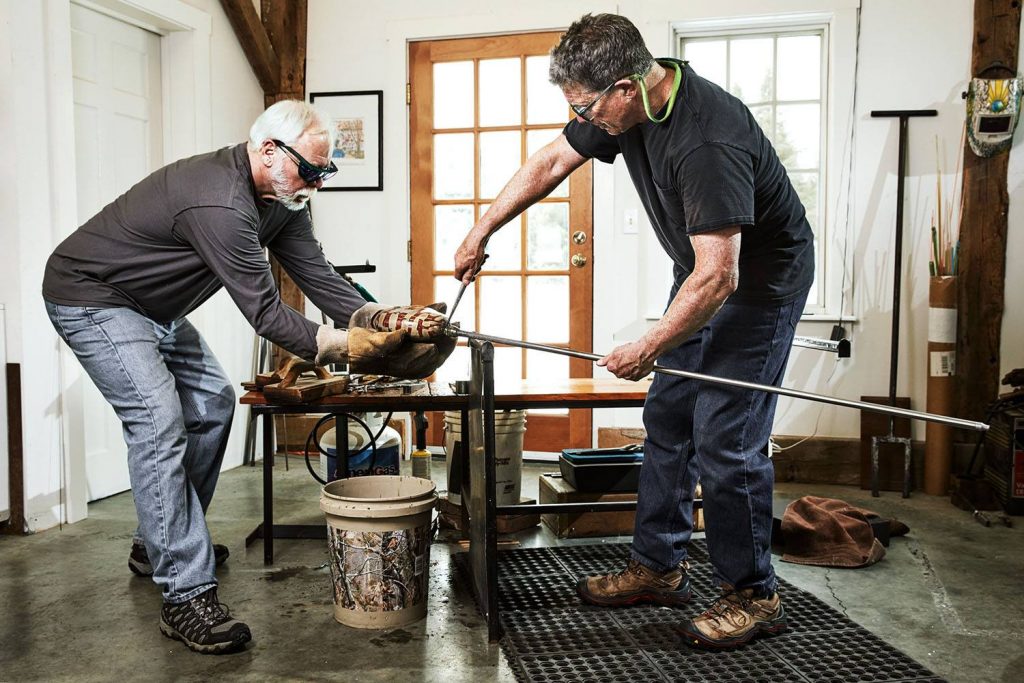 David Jacobson has worked with Maine SBDC Business Advisor David Hill since 2004. Jacobson, a successful cartoonist and glass blower, had just moved to Maine from New York City and wanted to establish his own studio in Montville.
The pair has since spent several years and many hours carefully developing his business, David Jacobson Glass. Jacobson makes hand-blown and kiln-formed glass utilizing contemporary designs based in the Venetian tradition. He makes brightly colored functional objects, such as bowls, glasses, vases and platters, as well as sculptural objects.  In addition to glassblowing, he is a professional cartoonist. His latest work appeared in a 2017 Downeast Books "Death by Blackflies."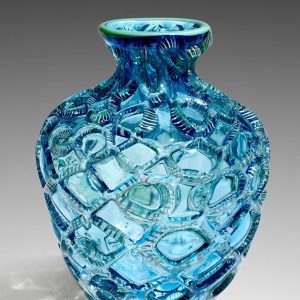 Over the last 14 years, Hill and Jacobson have worked together to look at his financing options, and work to help him obtain several sources of capital to start and grow his business. In addition, Hill helped him with fine-tuning his marketing strategy, working to help him sell his wares to stores, online, and from his studio where he gives demonstrations. The business' revenues have grown each year and he is seeing an increase in tourism to his studio because of these efforts. His work can be found in major collections, galleries and shops around the country.
More recently, the two have met monthly in response to the challenges posed by the sudden loss of Jacobson's wife. Upon recovering from the shock of her passing, Jacobson dedicated himself to honor her memory through the success of his business, for which she had been a vital part. Jacobson created a new product line of custom memorial urns and associated items which were inspired by her loss. He pursued an aggressive marketing campaign to bring students and visitors to his out-of-the way rural location. In addition, he received a needed financial and emotional boost from a New York patron who forgave his debt.
In 2018, Jacobson was named Maine and New England's Micro-Enterprise of the Year by the U.S. Small Business Administration, nominated by Hill, inspired by his story of overcoming tragedy and emerging as a strong and successful businessman. Jacobson will be honored at a ceremony on May 1, 2018 at the Harraseeket Inn in Freeport, Maine.
Follow this growing Maine business on Facebook or check out their website!
IN THE NEWS:
Montville glass blower earns state, regional distinction (The Republican Journal) – Read article here
Jacobson Glass in Montville Named Micro-Enterprise of the Year by SBA (The Free Press) – Read article here