Charles Hunt has always had a passion and natural talent for photography. When he decided he wanted to make it his career, Charles worked through the Vocational Rehabilitation program to get connected with  Shannon Byers, a business advisor with the Maine SBDC hosted at CEI. Charles, who has autism, was determined to start his own business.
Working alongside his team of advisors, Charles developed a business plan that included working with a locally established, well-known photographer Gerry Monteux. Shannon helped Charles with pricing, where to sell his product, and how to manage his financials.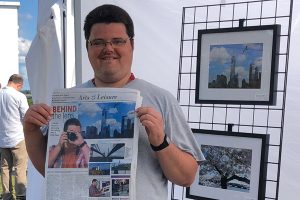 Charles' new business C.W. Hunt Photography started in June 2019. Charles' enjoys capturing life in the moment. His beautifully balanced photos vary from cityscapes to wildlife. His work has been featured at the Maine State House and has received recognition at local fairs.
Business Advisor: Shannon Byers  
For more information about this new Maine business, visit their website or the recent article in the Ellsworth American.