By: Keenan Hendricks, Maine SBDC Intern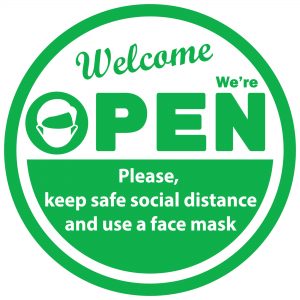 Customer service looks different these days. As a business owner, you are in control of how your customers see you through this shift. While it is vital to try your best to enforce and follow CDC safety guidelines, there are opportunities to serve and develop relationships with your customers amidst the pandemic. 
Here are some tips from a recent webinar hosted by Business Advisor Susan Desgrosseilliers.
You have an opportunity to build trust, loyalty, and relationships with your customers.
A crisis builds on strengths and weaknesses, making us all more human and connected. It is a great time to build relationships that result in ongoing commitment and engagement. If you are a business with capacity limitations (i.e. limitations on the number of customers), you should strive to really talk to your customers. Have genuine conversations and ask them how things are going. Ask customers if they are comfortable with your business practices if they have any feedback, and what you can do to make the shopping experience better. There is an opportunity to be remembered, to build loyalty, and to showcase your business during this time of uncertainty. 
No Shirt, No Shoes, No Mask, No Service: How do I enforce masks within my establishment? 
It may take some time for masks to become second nature to yourself, your employees, and your customers.  Be sure to communicate your policies. This can be done through noticeable signage on the exterior and interior of your building as well as on your website and social media platforms. 
Establish a plan and lead by example. Have a clear and concise policy to assure customers and employee's safety. Practice interactive situations with your employees. Make sure they are prepared for everything. 
What do I do when a customer refuses to wear a protective mask? 
Unfortunately, there will likely come an instance in which a customer refuses to wear a mask. It is important to understand how to deal with this situation. Approach the customer in a calm and professional manner.  Remind them that wearing a mask is your store policy and is for their safety and the safety of your employees. Have masks on hand for those who are willing to comply. As a business owner, you have the right to refuse business to a customer for not following the policy. It is crucial to continuously reinforce this with your employees as well, and let them know you have their backs when any tougher situations arise. 
Rather than deny service, let those who won't wear a mask know alternatives to accessing your products or services. Can you offer them curbside pickup? Can they order online? Clearly outline options for those wearing masks versus what might be available for those who do not want to wear them.
View the full webinar below: