COVID has caused massive disruptions in the way we all do business. Businesses throughout Maine are finding unique and interesting ways to connect with their customers, find new revenue streams, and keep their businesses afloat. Want to share how your business is pivoting? Contact us here.
---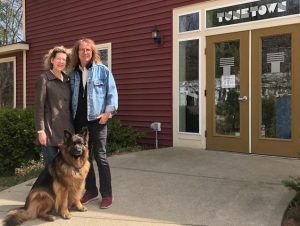 John and Pam Edwards have owned TuneTown Music Gear for 16 years in Wells. They bring generations of musical industry experience with the vision of providing a positive and nurturing experience in music instruction, service, and sales. Their business features nine large state of the art lesson studios, a recording studio, and a live performance stage. In the showroom, they offer a selection of instruments, keyboards, amplification, PA and recording gear, audiovisual installations in schools, churches, and military bases, print music and accessories at competitive prices. TuneTown also provides repair and maintenance on instruments and electronics.
How they have pivoted: 
As a nonessential business, John and Pam have had to close their retail store and halt in-person lessons. They've pivoted successfully. They offer curbside delivery for merchandise and delivery to homes and businesses. They have also continued lessons through online, live sessions. They were able to access the Paycheck Protection Program to maintain employees during this challenging time as well.  
Key to Success:
Creative thinking, Support of community, Ability to offer complementary products to supplement income
More info: www.tunetownmusicgear.com