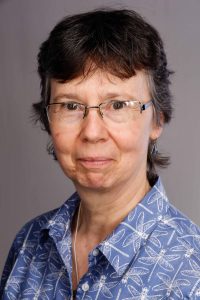 Bangor, Maine –The Maine SBDC has selected Ann McAlhany as the 2019 State Star. The award, given annually, recognizes a member of the Maine SBDC staff that has shown exemplary performance and a strong commitment to small business success.
"Ann is dedicated to the success of her clients and the Maine SBDC program. She is a leader and role model among her peers and we are lucky to have her as part of our team," said Maine SBDC State Director, Mark Delisle.
McAlhany is a certified business advisor at the Maine SBDC at CEI in Bangor. She works with entrepreneurs and small businesses in Penobscot and Piscataquis Counties to start and grow their businesses. In the 13 years that McAlhany has been with the Maine SBDC, she has spent 9,649 hours advising 1,200 clients. She's helped to start 80 businesses, create/save 540 jobs, and generate almost $31 million in capital. McAlhany is a leader among her peers at the Maine SBDC, always stepping up to help her colleagues and clients. This is the second time she has received the State Star Award for her dedication to small businesses and the Maine SBDC program.
Each year, America's Small Business Development Centers recognizes top performers from programs around the country at its annual conference. A special reception will be held on Tuesday, September 3, 2019 in Long Beach, California to honor this year's award winners.