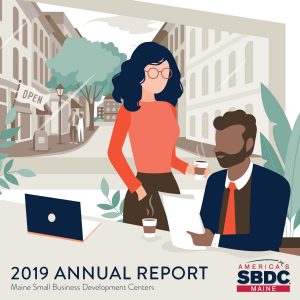 The Maine Small Business Development Centers (Maine SBDC), a statewide program that helps entrepreneurs start and grow their businesses, is pleased to announce its annual results.
2019 ANNUAL REPORT
 View / Download
In 2019, certified business advisors across Maine provided no cost business advising to over 1,500 entrepreneurs which helped them to:
Start 133 new businesses
Save and create 600 jobs
Access $26.8 million in capital to start or grow their businesses.
The report provides new insight into the businesses started with the assistance of the Maine SBDC, a state and federally funded program. On average, the Maine SBDC helps start a new business every 3 days, and these businesses are more likely to succeed. The report highlights a recent internal study that analyzes the survivability of businesses started with the assistance of a Maine SBDC business advisor. The study of clients who started businesses in 2016 found that more than 72% were still in business after three years, higher than national averages obtained through the U.S. Bureau of Labor Statistics.
"We are only as good as our people. These results would not be possible without our incredible team," commented Maine SBDC State Director Mark Delisle. "Each business advisor brings unique expertise and experience that helps strengthen the SBDC program. Our team is committed to providing valuable assistance to entrepreneurs to help Maine's economy grow."
Return on investment for the Maine SBDC is evaluated annually through an independent study of the program conducted by Dr. James J. Chrisman at the Mississippi State University. Dr. Chrisman's most recent report indicated that for every dollar invested in the Maine SBDC, $3.18 was returned in incremental state and federal tax revenue.