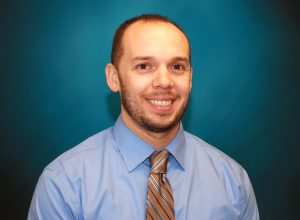 Caribou, Maine –The Maine Small Business Development Centers (Maine SBDC), a state-wide program that helps entrepreneurs start and grow their businesses, has selected Joshua Nadeau as the 2017 State Star. The award, given annually, recognizes a member of the Maine SBDC staff that has shown exemplary performance and a strong commitment to small business success.
Nadeau is a center director and certified business advisor at the Maine SBDC at Northern Maine Development Commission in Caribou. He works with entrepreneurs and small businesses in Aroostook County to start and grow their businesses. In the two years Nadeau has been with the Maine SBDC, he has spent 1,890 hours advising 221 clients. He's helped to start 23 businesses, create/retain 154 jobs, and generate almost $6.5 million in capital.
"Josh has been with the Maine SBDC for only a short time and we've watched him grow substantially in his position. He's driven to achieve his goals, and dedicated to helping small businesses succeed. He's brought new energy to Aroostook County and is a great representative of the Maine SBDC and NMDC. We are lucky to have him as part of our team," said Maine SBDC State Director, Mark Delisle.
Each year, America's Small Business Development Centers recognizes top performers from programs around the country at its annual conference. A special reception is being held on Tuesday, September 5, 2017 in Nashville, Tennessee to honor this year's award winners.