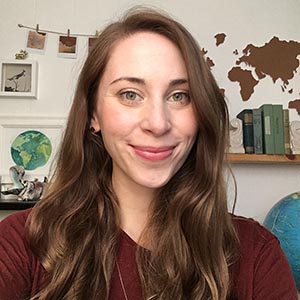 State Office
Location: Portland
Email: kelsey.riordan@maine.edu
Phone: 780-4957
Maine SBDC Staff Since 2020
Job Roles: Digital marketing, social media management, content creation, website management, event management.
Education: Bachelors of Fine Art in Photography from the Fashion Institute of Technology
Professional Background: Based in International Education, starting out as an art teacher at a summer camp here in Maine, leading to teaching ESL in South Korea. All the while supporting various nonprofits with marketing and communication projects.
Accomplishments: Co-founder of a virtual field-trip nonprofit focused on creating global citizens through online geography and science classes. Has traveled to 12 countries!
Other/Fun Fact: She's a "self-taught" fiber artist, starting from the age of 8, everything from sewing to crocheting to rug hooking! She can now often be found foraging for unique plants around Portland to use for natural dye projects on her fibers and vintage linens!