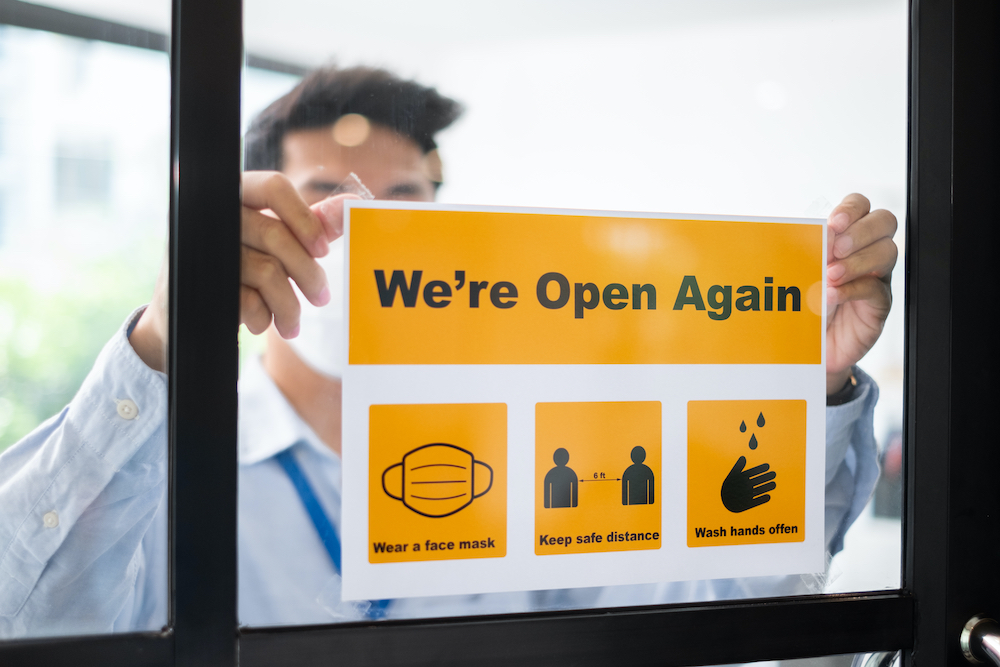 Keeping your employees (and yourself!) healthy and safe as you reopen your business is essential to maintaining operations. Without your human resources, could your business operate? The actions you take now will influence whether the pandemic has further economic impact on your business. 
 Plan for the worst (hope for the best)! Now is the time to consider what would happen if you and/or an employee got sick? How close do employees work and how can you prevent the spread of COVID? If an employee gets sick, will you need to shut down? For how long? Can you sustain your business during a shutdown? What are your cleaning procedures? 
Below we have outlined where you can find guidance on keeping your business safe. These include recommendations and requirements from the State of Maine, OSHA and CDC. Please refer to these two organizations for their complete, comprehensive guidance for small businesses and other valuable resources.
Safety Policies & Planning
Create clear policies and procedures that help guide your employees. Provide a written policy that helps establish expectations for employees and customers. Consider establishing guidelines that encourage employees to stay home if they are feeling sick, mask policies and expectations, guidelines on covering coughs and sneezes, cleaning policies, and maintaining space, where possible, between employees. It is also helpful to outline how employees should manage customers, particularly those who may not follow your business's established policies. Lastly, and perhaps most importantly, lead by example. Your employees and customers will follow your lead. Customers and employees will appreciate that you are taking their health and safety into consideration.
Be prepared! Don't be caught off guard if you and/or an employee gets sick. Have an established emergency response plan that ensures you are able to continue operating your business in a safe way.
Maine's Safety Guidance by Industry
The State of Maine regularly updates their health and safety guidance for individual industries. They provide best practices that can guide you as you adapt and pivot your business to meet new health and safety standards. View the checklists here.
Tips for Keeping Employees Safe
Conduct daily health checks in whatever form is appropriate (i.e. testing, temperature checks, daily communication) 

Conduct a thorough

OSHA hazard assessment

of the workplace to identify where and how employees may become exposed to COVID-19 at work and hazards related to COVID-19

When controls in place do not fully protect employees from exposure, you must determine what PPE is needed, select and provide the PPE to workers at no cost, and train them on its proper usage

Introduce policies that require sick employees to stay home, and for employees who are well but have a sick family member at home to notify you or their supervisor immediately

Have a procedure in place for the safe transport of an employee who becomes sick while at work 

Encourage employees to wear cloth face-coverings in the workplace, if applicable

Implement policies and practices for social distancing in the workplace as much as possible 

Prohibit groups or meetings in conference rooms, or prohibit more than 2 people in an office space based on the size of your space

Put protocols and policies in place for employees in regards to travel, public transportation, quarantining, requiring a negative test, etc. 

Communicate supportive workplace policies clearly, frequently, and via multiple methods
Prevention: Tips for Cleaning
Clean and disinfect all frequently touched surfaces, such as workstations, countertops, handrails, doorknobs, appliances, and light switches on a daily basis. Discourage the sharing of tools, equipment, and break room appliances if feasible. 

Implement required cleaning procedures for employees to clean their own desks or workstations, including keyboards, mice and other devices.

Create a strict cleaning protocol for retail establishments, and put one employee in charge of supervising the compliance with the protocol.

Provide cleaning and safety checklists and require employees to go through each checklist before and after their shift, and sign off on them.