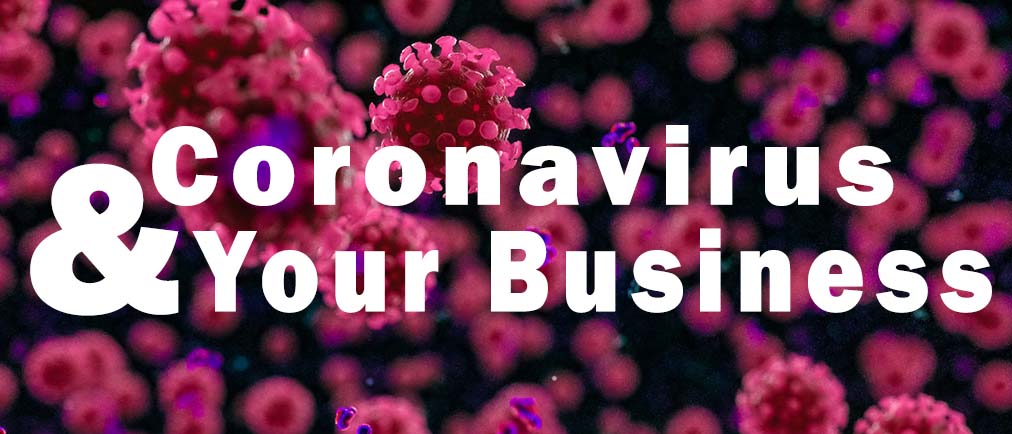 The Maine SBDC is committed to doing everything we can to help you navigate the challenges your business will face in the days and weeks ahead as a result of COVID-19. To request advising, click here. 
Last updated: 4/3/2020
WEBINARS:
NEW (as of 4/3/20):
4/3/2020: Paycheck Protection Program is now available. More details here.
The Families First Act includes provisions that ensure that employees who are sick or need to care for loved ones get the paid time off necessary during this public health crisis. Understanding that this will be difficult for many small businesses, the bill will provide fully refundable tax credits to help cover costs. The bill also allows businesses under 50 employees to apply for exemption if it affects the viability of the business. No details are available on how to request exemptions yet. Please check back soon for more guidance. 
3/31/2020: The $10,000 ($1,000 for each employee, $10,000 max) emergency cash advance is

AVAILABLE NOW.

To be considered for this advance, you must submit an SBA Disaster Loan application (EIDL). More Info here.
WHAT YOU CAN DO

NOW

:
MANAGE CASH FLOW

: 
Assess your cash position and future needs. Now is the time to conserve and reduce overhead. P

lan to conserve your cash for the next 6-12 months. 

Talk to your creditors, vendors and suppliers to discuss deferring payments

.

Do not ignore bills.

Plan for your presumed inability to pay rather than waiting until payment is due and you are struggling to find the cash. 

Do NOT cash out retirement accounts, rack up credit card debt, or take out high-interest payday loans. There are other, less costly alternatives. 
ACCESS CURRENT DISASTER LOANS: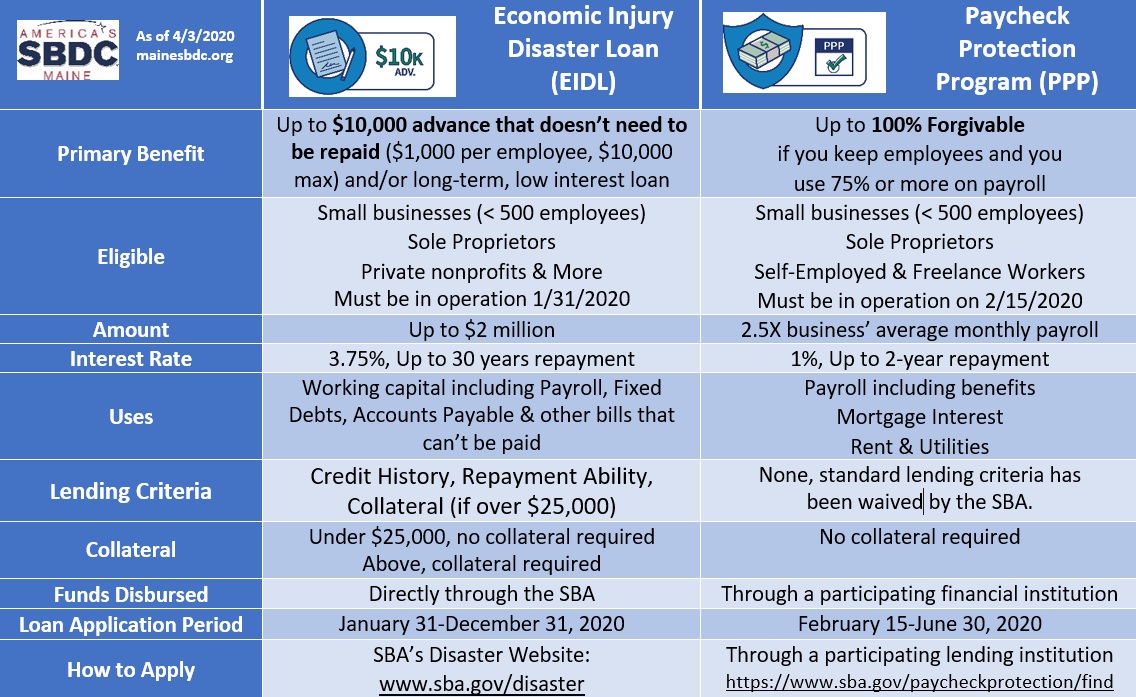 SBA's Economic Injury Disaster Loans (EIDL) are for businesses suffering economic injury as a result of Coronavirus. This loan includes access to an emergency cash advance up to $10,000 that does not need to be repaid. More info here.
The Paycheck Protection Program is now available.  More details here.
FAME's Business Relief Loans

are available to Maine businesses who experience hardships due to Coronavirus. 

More info here

. 

FAME's Consumer Relief Loans

are available for sole proprietors, contractors, 1099 workers, or employees who have been laid off and  whose hours have been cut. They provide no-to-low-interest guarantee loan programs through Maine banks, credit unions and FAME.

More info here.

Talk to your town or city and find out what they are doing for emergency response and relief efforts for small businesses. Inquire about any funds you can apply for at the municipal level. 
DON'T FORGET TO COMMUNICATE:
With Employees:

Communicate regularly with your employees. Be open and honest about your plans. Encourage self care for your employees. Be mindful of employee physical and mental health. Urge them to take breaks and get outside.  

Unemployment:

Maine's unemployment resources have been expanded to people who are affected by COVID-19 but have not lost their jobs. 

Maine's Department of Labor's website

has detailed instructions on how to apply. Here's a helpful FAQ they put together. 

With Customers:

Stay connected with customers. Whether you are open or closed, make sure your customers know what you are up to. Share what you are doing to keep them and your employees safe. 

Get creative – most innovation comes during times of hardship. Are there aspects of your business that can be done online? Consider virtual services, pick up, or delivery options where appropriate. Can you partner with other local businesses somehow? Are there other ways to connect with your customers in the short term?
OTHER HELPFUL OR IMPORTANT INFORMATION:
We know this is an uncertain and challenging time for many Maine businesses. You are not alone. Your SBDC business advisor can guide you to current and future resources available.  No-cost, confidential business advising is available virtually through email, phone and videoconferencing. 
Request Advising